Avoiding Disney December Crowds
For December at Disney World, try and go the first week of December.  Also the second week of December can be good.  If you are heading to Disney World for mid – late December you defiuantly need a touring plan.  Book Disney Fastpasses and also book your Disney dining well in advance.  Be prepaired for long lines to just get into the parks at Disney World.  Wait times for everything will be long.  So just set your expectations and enjoy the little things.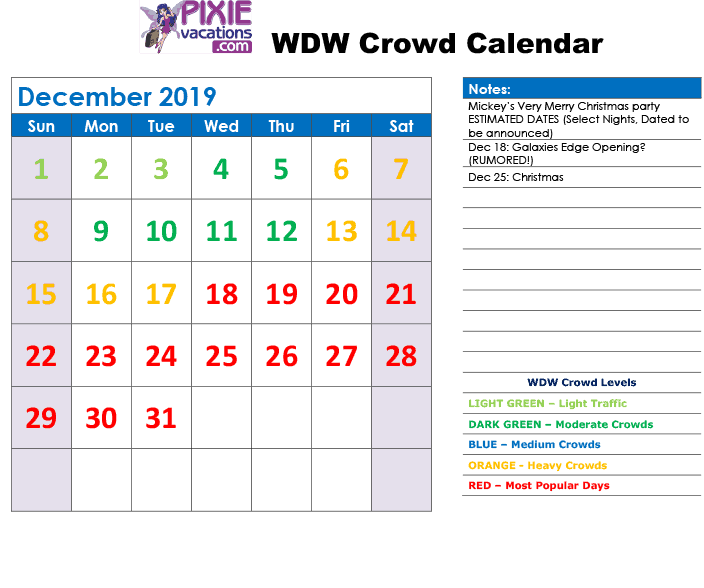 Disney World December Events
Mickey's Very Merry Christmas party is one of my favorite extra ticket events at Walt Disney World and there is no better time to enjoy this party than in December.  You can purchase Christmas party tickets for select nights in December and they can sell out quickly.  So be sure and get your Disney party tickets as early as you can.  Also Galaxies Edge will be open in December 2019 at Disney's Hollywood Studios.  We don't know when we just know late Fall 2019.  So expect crowds at Disney World overall and at Disney Hollywood Studios for a long time to come.
Other Crowd Calendar Resources
I am happy you are here and using our WDW Crowd Calendar, but I want to share other Crowd Calendar resources with you.  My favorite non-free Disney Crowd Calendar is at Touring Plans.  Touring Plans also has a tool that lets you create "Touring Plans"  The Touring Plans service is pretty affordable, and you can also search the webs for a Touring Plans Coupon Code to save a few dollars.