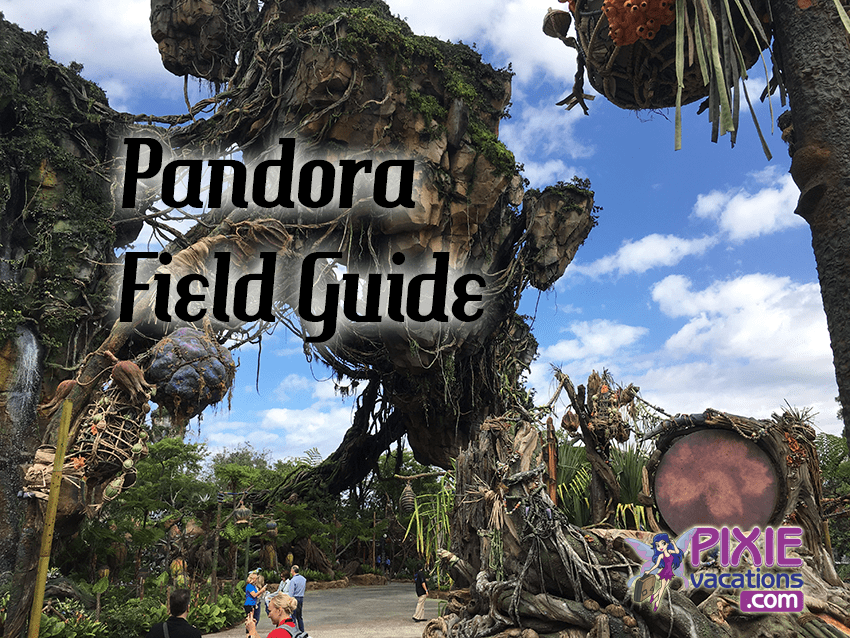 Complete Guide to Pandora – the World of Avatar
Pandora Disney – Pandora the World of Avatar at Disney's Animal Kingdom is a sight to behold.   We have spent several days, and nights, in Pandora to write this complete field guide to Disney's Pandora – The World of Avatar.
Disney Pandora Overview
So let's get started.  Pandora is not just a ride at Walt Disney World, it is an entire land at Disney's Animal Kingdom Park.  The land has two main attractions, The Navi River Journey and Flight of Passage.  But one of the best things about Pandora is just taking in the natural beauty of Pandora.  The forest is amazing.  My friend, John Frost, at The Disney Blog, would describe it as a tranquil Japanese Garden and I agree.  It is a Japanese Garden on an alien planet.
ACE Expedition Tip:  Yes you need to ride Flight of Passage and the Navi River Journey, but also plan at least an hour to walk around Pandora and to just take in the sights and sounds.  The waterfalls, plants, sounds, and pathways to explore are worth exploring.  The sounds on Pandora are so relaxing during the day time that I could make a Spa CD of them to sleep by.
Also not to be missed is a trip to Disney's Animal Kingdom at night.  Disney's Animal Kingdom is a full day park.  Let me say that again.  You are going to need a full day to see all the key attractions and also to explore and see the animals at Disney's Animal Kingdom.  Not only are there attractions to see during the day, but now Animal Kingdom comes to life at night. If you wear something that is black light friendly you will be one with Pandora at night.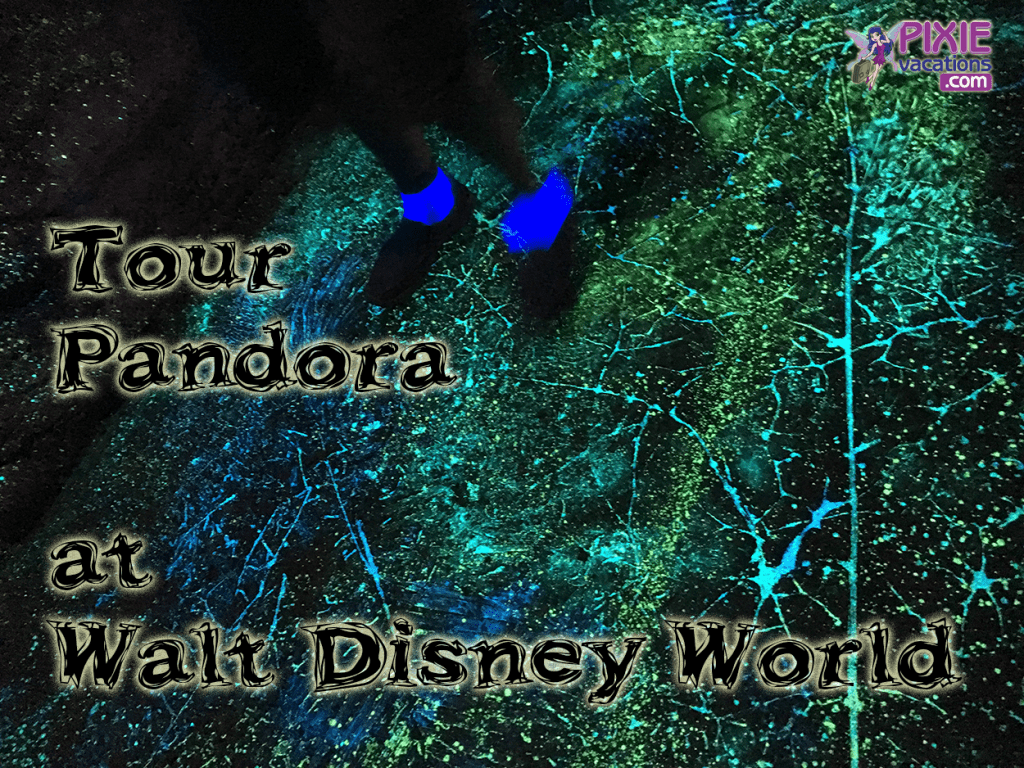 Animal Kingdom what to do at night
This post is about Pandora but you also will want to see these shows and attractions at night.
The Tree of Life Awakenings – This nightly show brings Animal Kingdoms Iconic tree to life.
Pandora – The World of Avatar – Pandora is not to be missed once the sun goes down.  The bio-luminescent forest comes to life and is an entirely new world at night.
Rivers of Light – A musical based on animal folklore takes place on the river and is a beautiful way to cap off the evening at Animal Kingdom.
Kilimanjaro Safaris – This attraction is a must see early in the morning for the best view of the animals on the Safari, but at night other animals can be seen.  TIP: If you only have time to ride this once, I would ride in the early morning to see the most animals.
The Avatarland
Describing the scale of this new land is hard to do in words.  Let me say that you are totally immersed in this new land and you do not see or hear anything.  Disney has done a fantastic job of taking you to Pandora.  Well, ACE, Alpha Centrauri Expeditions is the company that has taken you on this expedition and you will see nothing Disney while you enjoy your journey on Pandora.  For example there are no Mickey Ice Cream Bars.  The merchandise store in all Pandora, no plush Disney characters.  Even the Disney FastPass scan stations say ACE on them.
Let me take you now to Pandora so you can see a glimpse of the rain forest
If you have not seen the movie Avatar, don't worry.  You will still love Pandora and it's not necessary to see the movie.  If you really want to get into the experience you can rent Avatar before you go.
The Attractions on Pandora
There are two main attractions on Pandora. The Na'vi River Journey and Avatar Flight of Passage.  Both rides don't have  signs.  On Pandora the Na'vi have created Totems.  Totems are outside the entrance to each attraction to mark the entrance.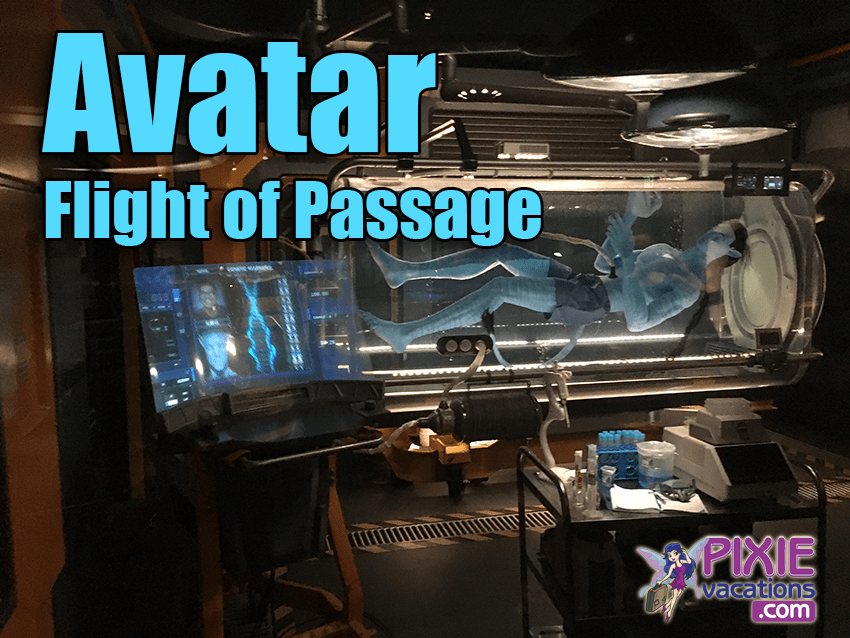 Avatar Flight of Passage
The E Ticket attraction is called the Flight of Passage.  This ride allows you to ride on the back of a banshee.  A Banshee is sort of like a large dragon.  If you are familiar with Disney World attractions, the Flight of Passage ride does have some similarities to Soar'in over the World at EPCOT.  Yes you do fly and there is a large screen, but other than that the similarities go away. This ride it thrilling and the lead up from the amazing forest outside to the different rooms and pre-shows all lead you to the flight on the back of your banshee.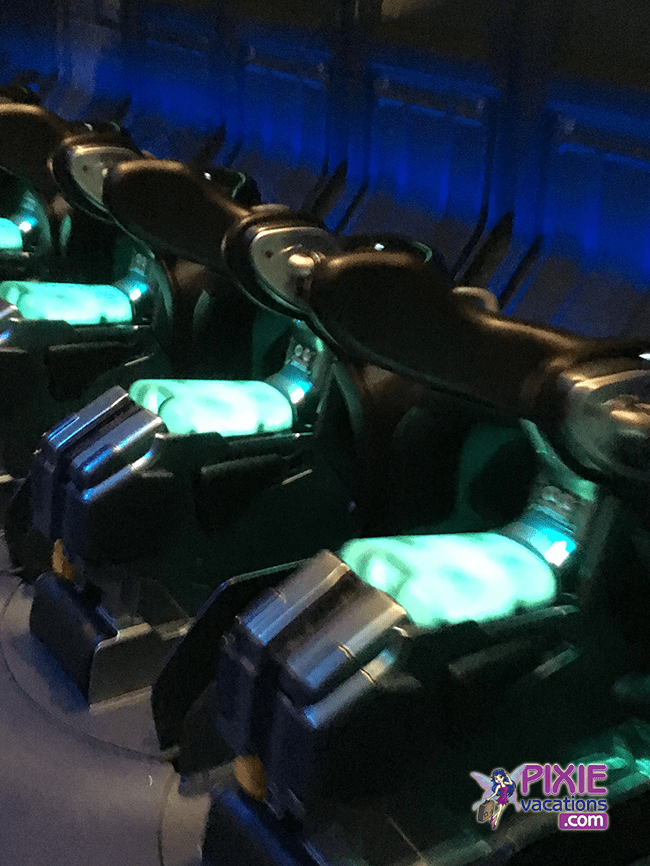 ACE Expedition Tip: If possible get seat 7 and 8, or 9 and 10.  These are the middle seats.  If you are a party more than two, aim for seats starting at number 8 and going down or starting at seat number 10 and counting up.  There are two rooms when you walk into the seating area and a wall divides seats 8 and 9.  You pick your seats by starting on the cosponsoring number in the Flight of Passage pre-shows.   If you don't get these seats don't worry.  I have ridden in seat 1 and seat 16 and these are both seats on the far edge of the ride screen.  The experience is still amazing in any seat and seat 1 and 16 just give you a little bit of distortion since you are on the edge.
Best Attraction in Orlando
Flight of Passage is thrilling and I would say it's the best attraction in Orlando right now.  Don't wait in a 4 hour+ line.  Book a Disney FastPass for Flight of Passage.  We testing Flight of Passage FastPasses on opening day of Pandora and it only took 23 minutes to get on the ride while others waited two hours just to get into the Pandora area and then they waiting 3 hours or more to ride Flight of Passage.  Please talk to a Pixie at Pixie Vacations and we will help you book your Disney World Vacation and help you plan the best way to avoid the lines while on your Walt Disney World Vacation.  Also I want to make sure you understand that booking with us at Pixie Vacation does not cost you anything extra.  It is free for our services when you book your Disney vacation with us.  That's enough about how we can help you with your Disney Vacation, back to Pandora.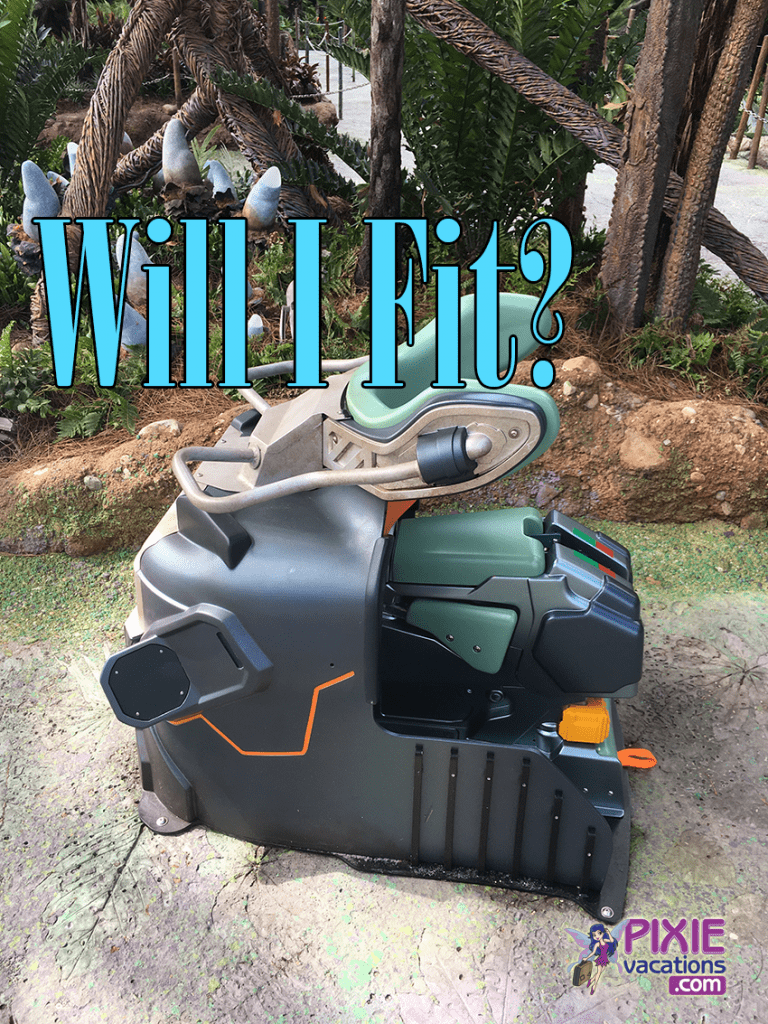 Flight of Passage the ride facts
There are 16 ride vehicles per level.  There are three levels and four screens.  The Flight of Passage ride can hold 192 people.  The cycle time is about every 6 minutes.  The screen is 6 stories high.  That's impressive and when you are on the ride, you have to look up and down and side to side to just try and see a little bit of the massive world.
Will I fit on Avatar Flight of Passage?:  Some riders are saying the back or leg restraints do not fit them.  There is a sample seat outside the attraction.  I am 6″3″ and 195 lbs and I had no issues fitting on Avatar Flight of Passage.  I mistakenly pushed myself as far forward thinking I would not fit the first time I rode and the ride was very tight once the restraints activated.  The next few times I left a little room between my chest and the ride and it was more comfortable.
Flight of Passage Height Requirements:  44 Inches.
Motion Sickness Scale:  I get motion sick.  Star Tours at Disney's Hollywood Studios can get me feeling a little queezie and so can going backward on Expedition Everest at Disney's Animal Kingdom.  I took a motion sickness pill before riding Flight of Passage.  I just bought some at CVS over the counter before my trip to Walt Disney World.  Also I would not ride on an empty stomach.  I rode Flight of Passage 5 times and the last two times I rode it literally back to back without any motion sickness medicines.
Flight of Passage the Queue:  The queue can hold up to six hours of guests. There are six main areas once you are in the inside areas on the Flight of Passage Queue.  The detail in this attraction is amazing and please visit my Pandora photo gallery to see some of the details.
What I love about Flight of Passage is that the more you ride the attraction the more you discover.  If you want to see the entire ride queue you need to ride once without a fastpass so you can see all the details.  Also the ride itself you need to experience a few times to take it all in.  Maybe don't do this on your first trip to Walt Disney World, but on another trip be sure to ride again.
A Bucket List Disney Attraction
This ride is very smooth.  It is not like riding a roller coaster that can leave your with a headache from tossing you all around.  Flight of Passage is thrilling but without the G force of modern day coasters.  Everything takes place on a massive six story screen.  This is a Must Do Bucket List Walt Disney World Attraction.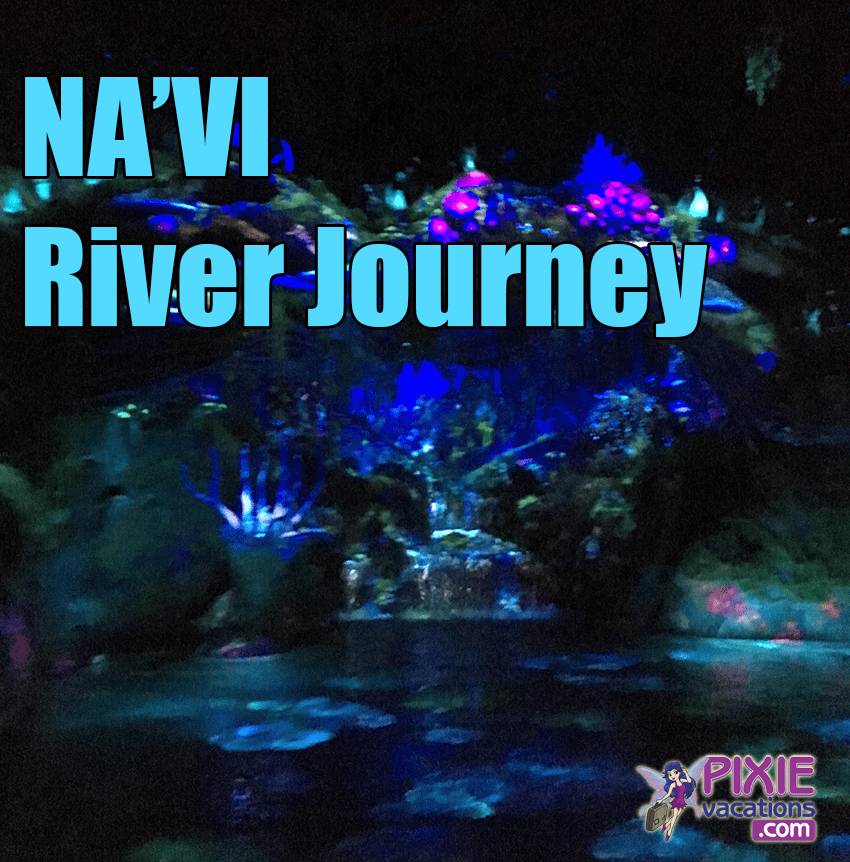 The NA'VI River Journey
This is the other main attraction at Pandora.  This is a calm river journey suitable for all ages.  There are no drops and the ride is slow moving and relatively short.  The boat holds 3 per seat row and there are two rows of seats per boat.  If you are a party more than six you will be split up of course.
ACE Expedition Tip: I would ride this first after exploring the rain forest at Pandora.  The ride is beautiful and meanders down a river and riding Flight of Passage first kind of makes the NA'Vi River Journey a little Ho Hum.  So ride this first with the entire family.  I would NOT get a Fastpass for the Na'vi River Journey.  I would use your Disney Fastpass for the Flight of Passage.  If you don't want to ride Flight of Passage I would use your Disney Fastpass for Kilimanjaro Safaris or Rivers of Light.  Also the Disney Rivers of Light Dining Package is a great option to get into the reserved seating area for Rivers of Light without using a Fastpass selection.  Ask one of our Pixie's at Pixie Vacations to book this for you.
The queue for the NA'VI River Journey is mostly outside in a unique covered spiritual area,  Once you do enter the cave you are just feet away from boarding the boats.  Photography is difficult and video comes out pretty much black, so just enjoy the river journey and put you video cameras away.  The journey is like a boat ride though The Rain Forest Cafe with unique bio-luminescence plants and animals in the jungle around you.  Like It's a Small World, you will have the song in your head for the rest of your day in Disney's Animal Kingdom.
Start Planning Your Disney Vacation Today!
Get a free quick quote from a Pixie at Pixie Vacations.