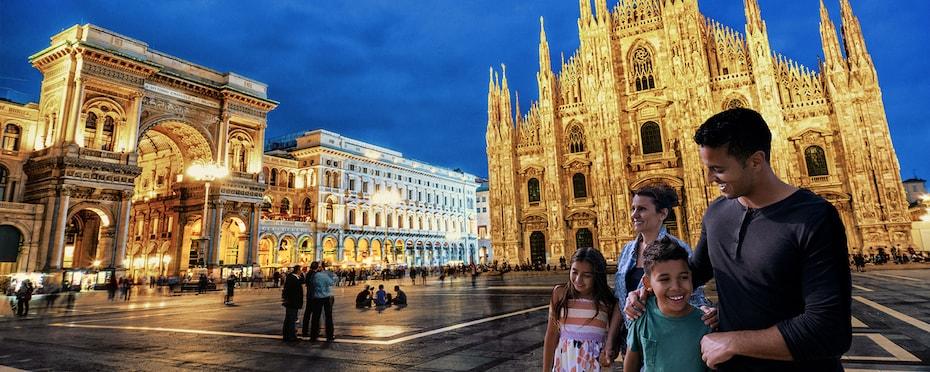 Reserve your magical summer voyage for 2018 now — Disney Cruise Line itineraries fill up quickly
What's New & Exciting for Disney Cruise Lines 2018 Itineraries?
Disney Cruise Line returns to Northern Europe and the Mediterranean with new ports of call in Genoa (Milan), Italy, and Cork, Ireland. Another great highlight includes 2 new 7-night sailings between Rome and Barcelona. And for the first time, Rome (in addition to Barcelona) is offered as a departure port, allowing more flexibility to explore this fascinating destination.
If the majesty of North America tops your list, then choose from a variety of 5-, 7-, and 9-night itineraries through wild, wonderful Alaska. Or escape to warm weather and endless fun on a special 11-night sailing through the southern Caribbean. And by popular demand, we've also added more itineraries featuring 2 stops to Disney's exclusive private island, Castaway Cay, in the Bahamas.
---
Mediterranean
Experience Spain, France and Italy during on an enchanting 5-, 7-, or 10-night cruise in the Mediterranean. Sailings run through early summer and include stops to such iconic destinations as Rome, Barcelona, Naples and, for the first time ever, Genoa, located near Milan, Italy's global fashion mecca.
---
Northern Europe
Medieval castles, ancient ruins and spectacular natural beauty are yours to explore on late summer sailings through the majestic capitals of Europe, the Norwegian Fjords and the British Isles with 7-, 10- or 11-night itineraries. For the first time, the 7-night British Isles voyage also includes a visit to Cork, Ireland.
---
Alaska
Immerse yourself in a breathtaking landscape of sweeping glaciers, rugged mountains and lush rainforests on the newly reimagined Disney Wonder during a 5-night, 7-night or 9-night cruise to such breathtaking ports as Tracy Arm Fjord, Juneau, Skagway, Ketchikan and Hubbard Glacier.
---
Bahamas
Drop anchor in paradise on a 3-, 4- or 5-night cruise from Port Canaveral (near Orlando). Exciting ports include Nassau and Key West—and all itineraries stop at Disney's private island, Castaway Cay, where sun and world-classtop-tier recreation await. Be sure to check out the special itineraries featuring 2 stops to the island.
---
Caribbean
Escape to crystal-clear waters, swaying palm trees and a unique blend of cultures when you embark on a 7-night eastern and western Caribbean sailing to such unspoiled locales as St. Thomas, San Juan and Cozumel. Or explore even more enchanting tropical locales on a special 11-night southern Caribbean cruise to Aruba, Barbados, Martinique, St. Kitts and Tortola.
---
California Coast
Surrender to the rugged coastal beauty of California and Canada on an unforgettable 5-night sailing from the sun-soaked port of San Diego to the steep hills and Queen Anne houses of San Francisco and the cosmopolitan old-world charm of Vancouver.
---
Transatlantic
Explore the rich history, exquisite architecture and world-renowned culinary traditions of Portugal and Spain on an adventurous 13-night cruise over the Atlantic. Cast off from Miami for sweeping seascapes and such breathtaking ports of call as Ponta Delgada, Libson, Cadiz, Malaga, Ibiza and Barcelona.
---
Disney Cruise Line Itineraries for Summer 2017
In 2017, Disney Cruise Line will sail on new itineraries and to new ports, including first-time visits to new destinations in Alaska and Europe. That summer, Disney Cruise Line also returns to Norway, the British Isles, the Mediterranean, the Caribbean and the Bahamas.
In Alaska, you can see Icy Strait Point and Hubbard Glacier. And, in Europe, you will have the chance to visit Amsterdam, Netherlands and Portland, England – a short distance from Stonehenge prehistoric monument.
In addition, for the first time, the Disney Fantasy will sail from Port Canaveral on longer itineraries – new 10- and 11-night cruises to the southern Caribbean. Plus, select Disney Dream sailings from Port Canaveral will include two stops at Disney Castaway Cay.
When you travel the world with Disney, you'll experience impeccable attention to detail, distinctive service and original, award-winning entertainment. Disney Cruise Line truly offers something for everyone—from Broadway-style musicals to family-friendly activities, kids' clubs, adults-only lounges and more. Your perfect paradise awaits!
Here's more about the 2017 itineraries:
Alaska
Coast through hypnotic landscapes during your 5- , 7- or 9-night journey to charming towns, including Skagway and Ketchikan—select cruises include a peek at Hubbard Glacier and a stop at Icy Strait Point.
Northern Europe
Drift across crystal blue waters and explore scenic cities like St. Petersburg, Helsinki and Stockholm. Plus, stroll through the storybook-like streets of Amsterdam during a new 10-night sailing from Copenhagen to Dover.
Norwegian Fjords
Glide past mystical fjords and colorful coastal homes on a 7-night adventure from Copenhagen to 4 Norwegian towns. Or take a 10-night roundtrip from Dover, England, which whisks you to Iceland, Scotland and a pair of captivating Norwegian port cities.
British Isles
Traverse the spectacular Inner and Outer Hebrides off the west coast of Scotland on a 12-night roundtrip adventure out of Dover that travels to ports of call throughout England, France, Germany and Ireland.
Mediterranean
Spice up your summer with a roundtrip cruise from Barcelona. Itineraries ranging from 5 to 10 nights invite you to roam the bustling streets of picturesque cities in Spain, Italy and France. And you can reflect on each one's distinct character as you recharge at sea.
Transatlantic
Delve into the rich history of several port cities—including the newly added Portland, England (Stonehenge) and Amsterdam, Netherlands. There's a bounty of sights for you to discover over the course of your 15-night sailing.
Southern Caribbean
Take rest and relaxation to the next level when you choose a brand new 10- or 11-night itinerary from Port Canaveral that transports you to idyllic islands like Aruba, Barbados and Curacao—each boasting a diverse array of land and sea activities.
Eastern Caribbean
Surround yourself with crystal blue waters, powder-soft beaches and nonstop family fun on a 6- to 7-night cruise leading you to treasured islands like Tortola, St. John's and Castaway Cay.
Western Caribbean
Soak up the natural beauty and vibrant cultures of 3 tropical ports of call—Cozumel, Grand Cayman and Falmouth, Jamaica—during a 7-night roundtrip cruise from Port Canaveral that includes a fun stop at Castaway Cay.
Bahamas
Navigate your way to the tropical shores of Nassau and Castaway Cay. Plus, enjoy an extra dose of Disney's private island-a series of 4- and 5-night "double dip" cruises grants you 2 fun-filled stops at this beloved retreat.
Baja
Celebrate something special with a weekend jaunt from San Diego to Ensenada—a captivating city known for its stellar surfing conditions, innovative cuisine and legendary hot springs.
Panama Canal
Savor top-notch amenities aboard a 14-night coast-to-coast cruise that takes you through the world-famous Panama Canal and calls upon 4 blissful port cities in Mexico and Colombia, before you land in San Diego.
---

To Book:
Please contact your Pixie at Pixie Vacations.
Click this link to get an online quote: Disney Cruise Line Quote
www.PixieVacations.com
Phone: 678-815-1584
Email: Info@PixieVacations.com
---
Current Disney Cruise Line Vacation Specials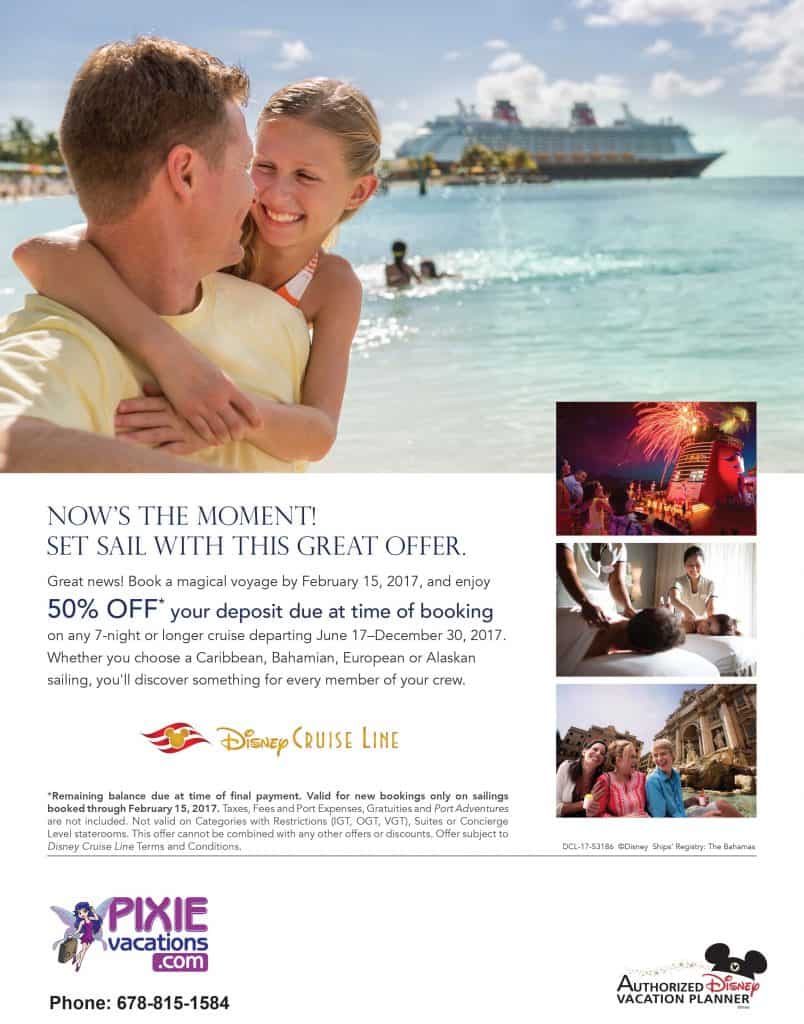 ---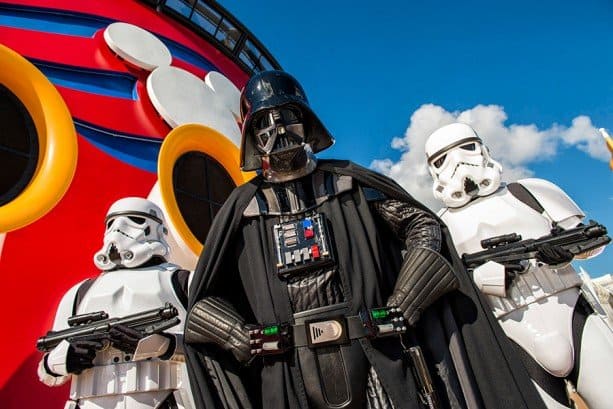 Take a Star Wars Cruise on Disney Cruise Line
Celebrate the legendary saga and its characters in an event of galactic proportions aboard Disney Cruise Line.
Star Wars Day at Sea—available on select Caribbean cruises—combines the power of the Force and the magic of Disney—in an out-of-this-world adventure unlike any other! On board experience the heroes, villains and sensational action of the saga up close. Be transported to "a galaxy far, far away" for an entire day of family fun, including:
A deck party featuring Star Wars Characters, music, dancing and fireworks
Photo opportunities with Characters from across the Star Wars galaxy
An onboard version of the Jedi Training Academy, where young Padawans learn lightsaber maneuvers
Star Wars-themed games and activities at

Disney's Oceaneer Club

and

Disney's Oceaneer Lab

Stellar food and beverage offerings
Screenings of the Star Wars films, plus episodes of Disney's animated series Star Wars Rebels
Exclusive themed merchandise
2017 Disney Cruise Line Sail Dates:
Star Wars Day at Sea is a one-day extravaganza available only aboard the Disney Fantasy on the following departure dates in 2017:
7-Night Western Caribbean Cruises

7-Night Eastern Caribbean Cruises

January 7, 21
February 4, 18
March 4, 18
April 1, 15

January 14, 28
February 11, 25
March 11, 25
April 8
You can book this special Star Wars Cruise by calling 678-815-1584.
Or get a quick Disney Star Wars Cruise Quote today by filling out the Disney Quick Quote form.

---
Ask about other Disney Cruises on the Disney Wonder, Disney Magic and Disney Fantasy Cruise Ships.  Let us plan the perfect Disney Family Cruise for you.
About PixieVacations.com:
We are Authorized Disney Vacation Planners, and plan exclusively Disney Vacations. In addition to being travel agents our team is made up of past Walt Disney World and Disneyland Cast Members. We have worked, lived, and played, all around Disney World and Disneyland. We are happy to use our Disney knowledge to plan the perfect Disney Vacation for you.
We never change a fee for our concierge level of service. Please call us or use the free quote form below and let us plan your next Disney Vacation for you.
Contact us for the best price Disney Cruise.
Contact PixieVacations to get a free Disney Cruise Line vacation quote:

Take a Tour of the Disney Fantasy Cruise Ship.  This quick video highlights Disney's newest ship and some of the must see attractions, shows, dining, entertainment for adults and kids.