See Toy Story Land at Disney World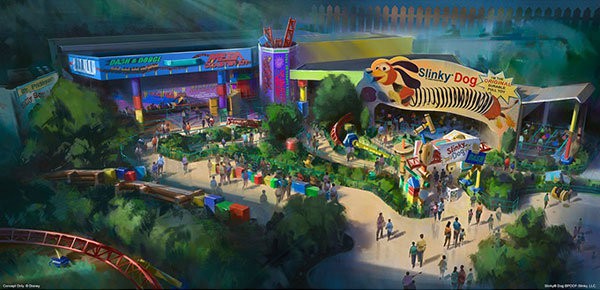 In 2018, you'll find yourself shrunk to the size of a toy to explore the world of Andy's backyard with your favorite Toy Story characters, including Woody and Buzz when a unique version of the popular Toy Story Land arrives at Walt Disney World Resort.
Located within Disney's Hollywood Studios, this new land will feature two incredible new highly themed attractions:
Slinky Dog Dash will be a family coaster attraction where you'll zip, dodge and dash around many turns and drops that Andy has created to really make Slinky and his coils stretch to his limits.
Alien Swirling Saucers will also be a new attraction at Toy Story Land. It's designed as a toy play set that Andy got from Pizza Planet, inspired by the first "Toy Story" film. Aliens are flying around in their toy flying saucers and trying to capture your rocket toy vehicle with "The Claw."
We'll have more information to share on Toy Story Land including an official Opening Date next year.
Start Planning Your Disney Vacation Today!
Get a free quick quote from a Pixie at Pixie Vacations.