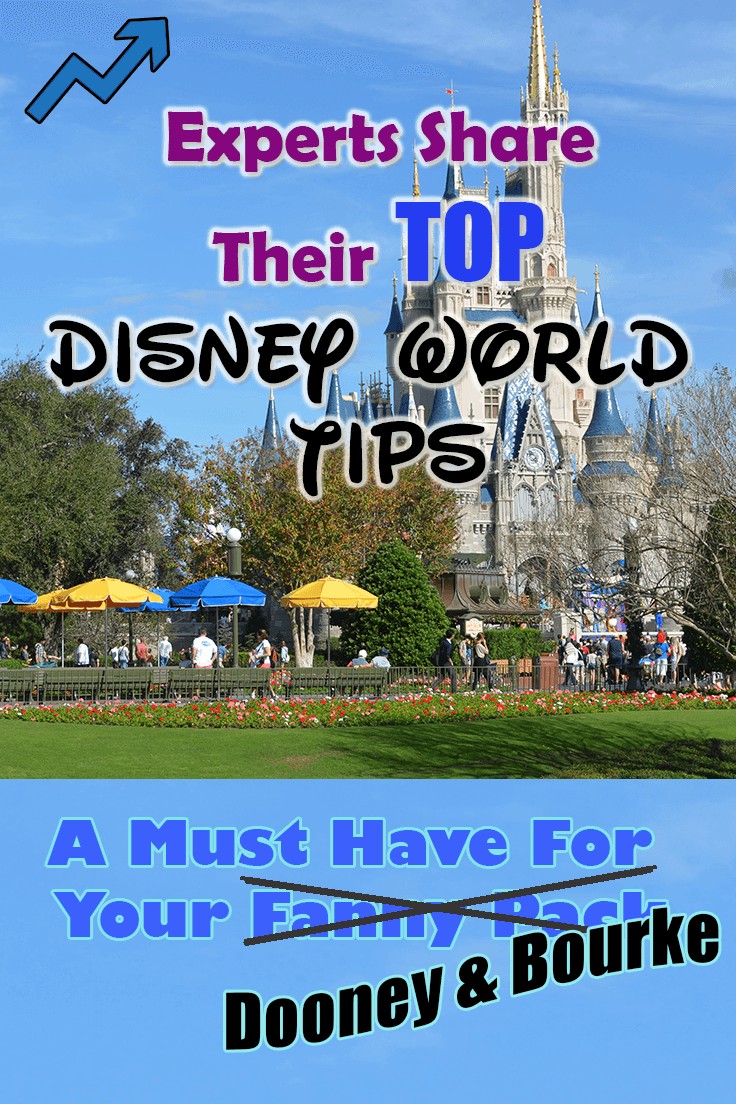 TOP Disney World Tips
I have collected the TOP Walt Disney World Vacation TIPS for YOUR Disney Vacation.
I am not sure anyone really carries a Fanny Pack anymore, so maybe carry this list in your Disney Dooney & Bourke.
Feel free to print this Top Disney World Tips List out and bring it with you on your Disney Vacation and also please read over the top Vacation tips before your travels.  Have a safe and wonderful Disney World Vacation and please leave a comment on our Facebook page if one of these tips helped you on your Disney vacation.
Also if I missed a great Disney World Vacation tip, please post your Disney World TIP on our Facebook page here.
---
Disney World Tips from Stephanie
Get it for FREE at Walt Disney World
1) Need a Drink?  Cool off.  You can get a Free cups of water at all counter service locations at Disney World.
Save Money at Walt Disney World with these tips
1) Don't spend $20.00 for a glow thing at the Disney nighttime parade.  Bring glow sticks from home for kids.
2) Share counter service meals when dining at Walt Disney World (a lot of them are huge) and this can save you a bundle of cash or Disney Dining credits.
3) Buy gift cards are your local grocery store (get fuel perks yay! ) and use them at Disney. You can pay for almost anything with a gift card, and it eliminates carrying a lot of cash!
Stay Organized At Disney World
1) Your Disney Resort Room can get crowded quickly.  Bring a pop up hamper for your clothes.
Disney World Line & Time Savers
1) Bring activities for the kids in case you get stuck in line. Dollar coloring book sets are the best and you can find them at almost any store, and they take up no room.
2) Book a pre rope drop meal at the Magic Kingdom, you will be on an empty Main St. and can get wonderful photos early in the morning!
3) Watch parades from Frontierland… you can almost always show up 15min til and find a great spot.
4) If you don't mind missing the Castle show watch the Magic Kingdom Wishes fireworks from anywhere but Main St. It is too crowded and hard to get out after. Fantasyland near Dumbo is a great spot, as well as the beach at the Polynesian, and boat dock area/Narcosse's porch at the Grand Floridian.
5) Disney photographers will take pics for you, this way you can be in them too!
Extra Disney Surprises
1. Wear your celebration buttons all the time, you never know when a cast member will have a special surprise for you :).
---
Disney World Tips from Bryan
Disney World Packing Tips
1) Pack your suitcases a few days in advance.  There's nothing like being on the airplane or 200 miles from your house and realizing that you forgot something really important.  If you pack ahead of time you'll have more time to remember that you forgot to pack something and be able to before leaving the house.
Disney World Money Savers
1) It never hurts to ask for an upgrade.  Sometimes this actually works out in the resorts favor and you will be granted one.  Plus, the worst that can happen is that they tell you no.
2) I have honestly never seen a time when there hasn't been some sort of discount.  So take advantage of what you are being offered and book in to it.  Never pay full price.
Some Disney World Relaxing Advice
1) If you can squeeze it in, take a break day.  Just lounge around the pool, maybe go out to dinner at night.  This really helps to relax you and the kids love the pool.
2) Don't under estimate the quick service locations.  I know we all love sit down meals, but there are some great options to be had at quick service locations.  Some of our favorites are: Art of Animation, Cosmic Ray's in the Magic Kingdom, Flame Tree BBQ in Animal Kingdom, Sunshine Seasons in Epcot, Wolf Gang Puck and Earl of Sandwich in Downtown Disney
3) Never eat dinner in the park that you started the morning in.  If you leave the park to go to a dinner, you will come back feeling more refreshed than if you ate dinner in the park.  If you are at Magic Kingdom or Epcot, you can hop a monorail to Polynesian, Contemporary, or Grand Floridian resorts and have some really great meals.  If you are at Hollywood Studios you are but a boat ride away from the Boardwalk, Yacht Club, and Beach Club.  These resorts have some great meals as well.
Disney World Time Savers
1) No matter what you do, make rope drop.  If you need to take a resort break in the middle of the day, that is fine but make rope drop.  You will get so much more done when you make rope drop and go on rides while others are still sleeping.
2) Obtain a Touring Plans subscription and utilize it.  I always build touring plans because I have found that it can really save you time waiting in long lines.
Disney World Planning Advice to Get What You Want
1) Make your dining reservations 180 days in advance if you can.  Some will fill up that far out.  These include, Be Our Guest, Cinderella's Royal Table, and Chef Mickey's.
2) Make sure to book your Fast Pass+ reservations on-line.  You can book them in the park but the lines will be long and you will waste time doing so.
---
Disney Tips from Lizzie
How to Do Walt Disney World with Allergies
1) Disney Restaurant Tips (table service)– Tell the cast member at check in that you have an allergy.  When seated, tell the waitress/ waiter, as well, and that you would like to see the chef. When he/ she arrives, tell them about your serious allergy/ allergies. Order from the chef and request a safe dessert as well, even if it's breakfast! Just take it with you if you want for a snack later. I carry 2 ziplock bags with me for this very reason! If the restaurant is a buffet, look over the buffet for safe food options before you are seated, or right as you are seated. This way, the chef doesn't have to go over what is on the buffet with you. Or, you can walk through the buffet w/ the chef. Most will do this, but I feel it unnecessary. NEVER EAT OFF OF THE BUFFET, HAVE THE CHEF PREPARE THE FOOD FOR YOU IN THE KITCHEN! Wipe down the chair, especially if wearing shorts. Be sure to wipe little faces and hands after hugs with furry characters. For dessert, ask for fruit, any special allergy free cupcakes or donuts made at the restaurant. Be sure to thank the chefs!
2)  Restaurants (Quick Service) Ask to see the manager. Tell him/ her about your serious allergy/ allergies. Look in "The Allergy Book" with the manager to find a safe meal. Remind them to make sure it comes straight to your table. Then, order for the rest of your party at the counter. Clean the table and chairs.
3)   Fresh fruit & snack carts – ask to see the "food allergy" book. Look and see if you can eat any of these.
4) Enjoy yourself. Plans can change on a moments notice at Disney and sometimes this is a great thing! Surprises are around every corner at Disney! If an emergency arises – call the front desk at the resort, tell a Cast Member at the parks, or the wait staff in a restaurant. I have never needed to do this but, if you need assistance, they are there for you and have response plans in place.
---
Disney World Tips from Lynne
Disney World Packing and Travel Tips
1) Always pack a Disney Survival Backpack to carry along on your Magical Adventure. We have carried as many as three back packs, one for each of us.
Some important items to have with you in your pack.
A. Bottled Water
B. Snack Bar
C.  Band aids and ointment for blisters.
D. Small Sunscreen Bottle for Reapplication
E.  Headache and/or Allergy Medicine
F.  Sharpie Marker for Character Signatures (plus an extra)
G. Pillowcase, T-shirt, Autograph Book or other item to be signed, along with a sturdy cardboard to lean on when signing.
H. A collapsible bag with comfortable handle to carry souvenirs in. Heavy souvenirs usually break the bags or the bag handles of the one they give you.
NOTE: Always consider having souvenirs sent directly to your Resort, where you can pick them up in the Gift Shop. This can be done until about two days prior to your departure.
I. A lightweight sweater or jacket for cold stores, rides and/or restaurants
J. Back-up Camera Battery
K.  Phone Charger
L. Lightweight Rain Poncho (Disney Themed ones are available at the Parks).
2) Tip for Women in Warmer Weather: Apply sunscreen and wear only light make-up, mainly eye pencil and mascara with some shadow and lip gloss. You don't want your make-up rolling down your face in the heat.
Disney World Where to Eat
3) Don't be afraid to try non character meals, or meals at other resorts. We have had some of our best meals when we ate "off the beaten path."
For example, Flavours of Boma in Animal Kingdom is a unique and fun culinary experience.
4) Have your child bring a favorite stuffed animal, doll or lovey and leave it in the room when you go to the park. You will usually find them watching t.v. or doing some other funny activity when you get back!
Save with a Disney Visa Card
5) Disney Visa, Disney Visa, Disney Visa!
Disney(Chase) Visa Card : Benefits include: 6 Months Interest Free or 6 Months at 0% when you charge a Disney Vacation Package or a Cruise, Disney Reward Dollars (use toward dining, tours and merchandise), 10% off select merchandise purchases of $50 or more, 20% off non-discounted price of tours and MORE! To enroll or see benefits, go to DisneyRewards.com and DisneyRewards.com/themeparkperks. You can even choose your own Card design.
Apply by Phone 1-888-873-2392
Disney Rewards: 1-800-300-8575
Disney Visa Cardholders: Can get a personal Disney Character Meet and Greet and free 5X7 by presenting their card at Innovations West at Epcot between 1:30 – 3 (check times with Disney Visa to be certain).
Disney Rewards: 1-800-300-8575
6) Legal Guardians – Before you go: If you are a Grandparent or Other Guardian traveling with a child, you should carry the child's birth certificate, notarized authorization and health insurance information. Better safe than sorry!
7) First Timers – Can go to the City Hall and get a complimentary First Timers button. It makes a great souvenir and Cast Members who see it will make sure to make you feel welcome! Be sure to write your first name and the date on it!
8) Celebrationeers – If you are celebrating a birthday, family reunion or anniversary, stop by City Hall and get your complimentary button! Another great souvenir. Be sure to write the date on it in Sharpie!
9) Have A Magical Morning – Make sure to attend at least one morning opening of the Magic Kingdom — it's a fun event you are sure to remember.
10) It's not a Race! Go at a nice, slow pace, and stop and smell the flowers or find the Hidden Mickeys! The little details at Disney are spectacular and should not be missed.
BONUS: Any ride that opens in the place of another has something placed in it to commemorate the previous ride. While enjoying the Adventures of Winnie the Pooh, be certain to search for the Portrait of Mr. Toad in a picture frame on the left once you enter the ride.
---
Walt Disney World Planning Advice
1) Watch the fireworks from the beach at the Polynesian Village Resort – This is really a hidden gem. Most people join the crowds on Main Street USA to watch the fireworks over Cinderella's Castle. Then, after they're over, you have to face the crush of people leaving to go back to their resort. However, for a great view with fewer people, go to the Polynesia Village Resort, head to the beach on Seven Seas Lagoon and watch from there. You still get to see the fireworks, but you don't have to deal with the crowds. Then, after they're over, stroll over to the Transportation & Ticket Center to catch the bus back to your resort.
2) Go with the best resort you can afford – The last time we went as a family to WDW, we were originally going to stay at Pop Century. Then a great deal came out with the Contemporary Resort and we decided to stay there and surprise our kids (who, at the time, were 16 & 8). We spent one night at Pop (since we got in so late), then checked into the Contemporary the next day. While there, I was amazed at how much we used the extra space…especially with a very tall, gangly teenager in the room. A lot of people say they won't spend much time in the room, but a veritable monsoon kept us in the room more than we wanted and it really helped that we were in a Deluxe resort. So if you can afford it, go with a Deluxe Resort…you won't be disappointed.
3) Structure your trip wisely – Do you have a late arriving flight? Book a room only reservation your first night at a Value Resort then start your package the next day. Then you aren't paying for a day of the dining plan you may not use. Also, be smart about your ticket choices. If you are leaving late on your last day, add an extra day to your tickets. The cost difference between a 4 and 5 day ticket is minimal. Finally, make sure you wisely use your add-ons. A lot of people add the Park Hopper option…and a lot of people don't use it, wasting the money when they could have purchased something else. If you are there for a short time (5 days or less) or you haven't been to Disney World before, forgo the Park Hopper and concentrate on each theme park. You can always add it later if you want it.
Walt Disney World Time Saver
1) Get up early, at least one day – Early morning at Disney World is it's own kind of magic. It's great to just walk around and watch the resort come alive. It's also great to be at a park during the opening. The Magic Kingdom has what they call the Rope Drop ceremony and is a lot of fun to see. Plus, you beat most of the crowds when you get there early and can get in a lot of rides in a short amount of time.
The other side to Walt Disney World
1) Disney World is more than just theme parks – Did you know you can take a tour of the underground areas in the Magic Kingdom? Or go bass fishing? See a spring training baseball game? Visit a water park (or 2)? Go parasailing? Play golf on a championship golf course? Or play mini golf? Disney World is far more than 4 theme parks. Take advantage of everything it has to offer!
Walt Disney World Guide Book
1) Get the Unofficial Guide – I recommend the Unofficial Guide to Walt Disney World to many of my clients. While the official guide is great, the Unofficial Guide will give you the low down on what's worth your time and what you can avoid. Also, they have developed excellent touring plans to help you see and do more in a short amount of time. It is well worth the investment.
---
Disney World Tips from

Melissa
Walt Disney World Time Savers
1) Take breaks – Breaks are much needed if you have small ones or don't. You might want to get up early to do Rope drop and stay late to close a park. So you are going to want a nap. Our family usually stays until lunch have lunch in the park and take a break until a little before dinner. That makes for a happy family.
2) Make reservations for table service meals. This tip I will say I have been at the parks many of times and have seen many of families trying to have dinner and can't get into where they would like because they don't have reservations.
I would also say if it is a really popular restaurant to make as soon as you can make reservations.
3) Keep in mind you can't do it all so relax and enjoy what you can do
To me this tip is a great excuse to plan my next trip. Plus after trying to plan for my husband's  family to attend Disney all at once and wanting to do it all that just isn't possible. You pick what you really want to do. Also have that list of all you want to do because you never know what you may be able to fit in. Above all just have fun
4) Plan– Planning really is a must. get advice from your agent. think about what your family wants to do. pick your top choices on what to do. though you may want to go away from those plans while there.
5) Pack you own snacks and waters to save some money– Our family always has a back pack with us for some healthy snacks to dig into as well as we will freeze a few waters and put them in the bag to keep other drinks cold. and have it all day.It is a great money saver
6) Plan games to play in lines with the kids. Eye Spy or scavenger hunts.
So on our last trip my daughter was working on girl scout badges while at Disney. Part of the badges were to create games to keep you busy in line. Let me tell you for some of the lines that didn't have hands on stuff to keep us busy. This was awesome. We had so much fun playing eye spy or the scavenger hunt was great while my husband took smoke breaks and we waited on him.
---
Disney Tips from

Jessica
Keys to a Perfect Disney Vacation
1) The most key ingredient to any happy vacation is patience. We all have a vision of a completely magical vacation without any snags or mishaps. In the real world there are wait times, cranky kids, heat, rain, crowds, and long bus rides. The more patient you are the less these things become an issue and the more fun you will have! Your ability to adjust to stressful situations can make or break your trip. I can remember the first time I took my entire family to Disney. I was so intent on having everything go according to my plan and my vision of what they were supposed to enjoy that I completely forgot to actually let them and myself enjoy the trip! Be patient, relax and enjoy!
2) If you choose to use the Disney dining plan make sure you understand how it works. The Disney dining plan is both very convenient and easy and completely baffling at the same time. It is important that you understand where and how you can apply your credits. It is also important to understand how to get the most value out of your daily credit allowance and when it may be more practical to buy something with cash. I know it has been said many times, but just because you can used your snack credit for water does not mean you should.  There is a lot to consider when using the dining plan such as how many credits each table service restaurant covers, what is included in your quick service meal, and how best to stretch your credits. Take some time to really understand how the plan works so you are not left with unused credits or too few credits by the end of your trip.
3) The single best thing you can do on your trip to attempt to keep everyone happy and healthy is wash your hands. I know it sounds so simple, but really, there are a ton of people at Walt Disney World and tons of germs. Make sure to consistently wash your hands and you will greatly reduce your chances of spending a day at urgent care instead of the theme parks. I highly suggest washing your hands before and after your flight to Orlando, before any meals, and of course after you use the bathroom.
4) If there is one thing that you absolutely must understand it is how Fastpass Plus and My Disney Experience work. Each guest in your party is allowed to book 3 fastpass plus experiences per day in advance of your trip. You can book these fastpasses 60 days ahead of your arrival if you are staying on property. If you know which rides and experiences will be most important to you and of those attractions which ones will demand a fastpass you are on your way to a much more pleasant trip! For example, your family may absolutely want to do Pirates of the Caribbean and Seven Dwarfs Mine train. If you do your research however you will learn that Pirates rarely demands a fastpass while a fastpass at the mine train is imperative if you want to avoid long waits. Make a list of all your must do attractions and then do some research to find out where your fastpasses will best be used.
5) Walt Disney World is huge and it is impossible to see everything in one trip or even ten trips. Realize you will not see it all and make peace with that ahead of time. A good thing to do is to sit down as a family and have each person pick 2-3 things that are absolute must dos for them. Incorporate these things into your plan. This way everyone gets to do some of their top choices!
6) Get Rest! If you burn the candle at both ends you are going to have a bad time. The resort hotels at Walt Disney World are amazing and designed for your enjoyment. Spend the afternoon napping by the pool, cool off in the AC in your room, have a drink at the hotel bar. Whatever you do, take some time away from the parks each day to rest!
Walt Disney World Budget Savers
1) Book the trip you can afford regardless of possible discounts. It's true, Disney does often offer discounts on their resort vacation packages. However, planning your stay around the possibility of a discount is not a good way to plan. If you have $2000 to spend on a trip don't book a $3500 trip and hope free dining will come out and make your dreams come true! Book a $2000 vacation and start planning a trip you can enjoy on your budget. If a discount comes out not only will you still be able to afford your trip, but you may even be able to upgrade your trip at no extra cost! If you are booking a trip in hopes of a discount it is best to be flexible with your dates. Do not book airfare until you are sure the discount you want is out. I have seen plenty of people assume free dining would be offered on the dates they wanted only to miss it by a few days because they had already booked their non-refundable airfare.
2) Educate yourself on the FREE things Disney offers for guests. If you book a Walt Disney World vacation package it comes with 2 free mini golf vouchers and 2 free Disney Quest admission tickets! These come included with your package and not as many people take advantage of using them as you would think. There is also a campfire sing –a – long with Chip and Dale nightly at Fort Wilderness that is totally free. There are culinary tours at Boma, Jiko, and Sanaa that even include some tasty treats. Touring the resorts is always free and well worth an afternoon of exploration. The list goes on and on! If you have some spare time, but not a lot of spare cash there are plenty of things to do!
3) Book your trip at least 6 months in advance. At the 6 month mark dining reservations open up. If you have anywhere that you MUST eat you need to be ready to book 180 days in advance. You will also have a better chance of being able to plan and pull together all the experiences you want such as Bibbidi Bobbidi Boutique, Pirates League and more.
4) Bring cash! With the new magic bands hooked up directly to your charge card it is easy to head to the parks without some cash in your pockets. However, there are quite a few things that you will need cash for. Most of the street vendors that sell balloons, glow sticks, and toys only take cash. Believe me when I tell you your child will not be pleased when you promise them a balloon only to realize you cannot pay for it! Another reason I carry cash, especially singles, is for tips. There are a lot of people to tip such as Magical Express drivers, bell staff, housekeeping,  airline check in staff, room service, valet attendants and more. Having a few bucks on you is a great idea so you do not find yourself unprepared.
---
Disney Tips from

Tracey

Save when booking your Disney World Vacation
1) Utilize a good and knowledgeable Authorized Disney Vacation Planner travel agent! He/she can answer your questions, provide you with valuable tips, answer any question (big or small) in a timely manner, and take the "hassle" out of the planning part of the vacation! WDW is huge, and can be overwhelming for a first time (or even a 10th time guest)!
Disney World Planning Advice
1) Don't plan to do everything on your visit. WDW is quite a large property. There are often queue lines for rides, attractions, and character visits. In certain months it's quite warm, if not downright hot! There is enough to do at Walt Disney World that you will stay busy and want to come back for more.
2) Remember, while there are lots of planning tools out there (including MyDisneyExperience)- you can pre-plan as much or as little of your WDW vacation as you like.
3) Plan a trip when something "special" is going on-for example, Night of Joy, Mickey's Not So Scary Halloween Party, HGTV's Flower and Garden Show (EPCOT), etc. While some of these may be ticketed events they can be incorporated into your trip.
Enjoy these Walt Disney World Extras
1) Book a cruise without leaving Walt Disney World! Enjoy a cruise on the Grand 1 yacht (Bayside Marina at Disney's Yacht Club), a Pirate's Adventure Cruise for kids ages 4-12 (leaving from various resorts), or simply take the complimentary ferry and/or boat transportation to get from one property or park to another!
2) Enjoy some later evening entertainment– a Fireworks Dessert Party (Wishes or Illuminations), an "After Hours Wind Down" at EPCOT! Make your night extra special!! Enjoy night-time modes of transportation like a trip on the monorail, just because! Or, a surrey bike ride or a horse drawn carriage ride at a particular resort. How about finding animals on the savannah with a pair of night vision goggles? Or, sing along with the dueling pianos at JellyRolls.
3)  Take advantage of other areas of WDW property – there is SO much to see and do! How about a game of golf on one of the many lush courses on property or a spa day at Senses-either at the Grand Floridian or at Saratoga Springs Resort? Book a massage or pamper yourself for the day -perhaps on the last day of your visit.
Walt Disney World Time Saving TIPS
1) Remember, you do not have to carry your souvenir purchases around the park! As long as it is not the last day of your visit, let Disney send your items to your resort! If it IS the last day of your visit, remember to visit Guest Services to collect your items.
2) Don't pass up a photo opportunity! Whether its a selfie or you find a Photopass photographer to take your pic-capture those memories!
Save on your Next Disney World Vacation
1) Before you leave, check your room for a "Disney World Bounce Back" offer!!! This can offer you a nice savings on your next trip! Peruse through the printed information in your resort room. Make a quick call to your Authorized Disney Vacation Planner travel agent before you leave.
---
Disney Tips from

Mike
See the Characters with No Lines
1) Some may disagree with me, but we love character dining restaurants.  My daughter is a buffet kind of kid anyway, but the beauty of the character dining is that you can kill two birds with one stone — refuel for the rest of your day, and also get great character autographs without having to wait in line or waste a FastPass on.
2) Speaking of FastPass, don't be afraid of the FastPass+ — think through the dining reservations you have, look at where they are, and make your FastPass+ selections based on that.  Don't be afraid to use My Disney Experience to change on the fly either, it's going to be okay.
Disney Vacations with a Group
1) If you are vacationing with a large group, keep in mind that everyone is on vacation, not just you or your kids or whomever.  In my family, we have a mantra — "It's everyone's vacation."  That applies to my daughter Sophie, to Cindy and I, to our sister-in-law and her family, and to her Mom, too, so take all of their wishes into consideration when planning what to do.
Getting the Most out of Your Disney World Vacation Dollars
1) I know that for most of us — me included — a vacation to Walt Disney World is not a trivial purchase.  Because of that, for many of us, we feel like we need to go, go, and go to see as much as possible in order to get the most return for our dollar.  However, I would add that you shouldn't be afraid to take time, to slow down, to stop and smell the roses.  Take some time to go to Tom Sawyer Island so your kids can play and you can relax.  Take some time to go climbing Swiss Family Robinson Treehouse.  In many cases, you will find that your absolute best memories of your Disney vacation will come when you least expect it, and they will quite often not be the result of riding some thrill ride somewhere.
2) Last, but certainly not least — take advantage of Extra Magic Hours, which are only available to those that stay on Disney property.  My family particularly likes evening Extra Magic Hours, times when the parks are open sometimes as late as 2AM.  There is something majestic about it, walking through a nearly deserted park, feeling like you are seeing a piece of Disney that not many people are able to see…and who knows, you might see Mickey & Minnie riding Dumbo with some special Guests, like we did in 2010!
---
Disney Tips from Elescia
Disney World Time Savers
1) Be at the parks at opening. If you want a relaxing, sleep in vacation don't go to Disney. What you will wait on line for 15 minutes for at 9:30am you will wait for 60 minutes for at noon.
Best Use of the Disney Dining Plan
1)  If you are on the dining plan, get the most value you can for it. You can use your table service credit for a $15 burger at The Plaza Restaurant or use the same credit for a $40 dinner at Ohana where you eat shrimp and steak. You can use a snack credit for a $2.50 bottle of water, or a $5 pastry at one of the bakeries. Be smart with your credits!
Save with this Disney World Tip
1)  Bring souvenirs from home. Rather than spend $30 on a tee shirt for a child that will grow out of it in a year, I hit my local Disney Store or go online and purchase tee shirts and other souvenir items at a fraction of the price. Each day, "Minnie" leaves a souvenir for my daughter in the room that I brought from home, and I save a fortune. The Disney Store online often offers a 25% discount on park merchandise, so this is where I get autograph books and such. Every penny counts when going to Disney, don't blow it all on overpriced park items!
How to use Disney FastPasses
1) Don't use your Fastpass + picks on attractions between 9am-11am. This is the slowest time of the day where you can enjoy relatively short lines. Save those picks for the afternoon and evening hours, when crowds are bigger and lines longer.
Enjoy your WDW Vacation
1)  Take a mid day break. Going commando style in the parks all day will only leD to overtired parents, over stimulated kids, and meltdowns. Don't be that parent screaming at their kid in the park that they just spent an exorbitant amount of money on this trip and that everyone better be happy!  Disney resorts are amazing…spend some time enjoying yours. Take a swim, take a nap, recharge, and hit the parks fresh, just as all the tired, cranky people who have been there all day are leaving!
---
Getting ready and staying hydrated
1) A month or two before traveling, start a regiment of walking. Disney entails a lot of walking and not being physically exhausted will help you enjoy your time there. Also, if you are traveling during a warmer time of year, walking at home when it is hot will help to acclimate you to the heat. My favorite reason though is that the extra exercise will earn you an amazing, guilt-free dessert after every meal if you want.
2) Speaking of the heat, most Quick Service restaurants will provide free cups of ice water, even without a purchase. It is not uncommon to need 8-10 8 oz. cups of water a day when walking in the heat. This is much better than using cash or a snack credit on a bottle of water.
3) Dining can be an extension of the magic of Walt Disney World. There are beautifully themed restaurants, restaurants with characters, and restaurants with innovative cuisine that offer a great introduction to fine dining. Places like the Be Our Guest restaurant take you into the movies. Restaurants like Cinderella's Royal Table or Chef Mickey's will allow you to meet characters while you eat, instead of waiting to meet them in the parks. Finally, restaurants like those in Epcot around the World Showcase will enable you to try authentic cuisine from several different countries in an atmosphere of exploration and discovery.
Make New Friends and Enjoy Disney World
1) The people who work at Disney love their jobs and love to spread joy to visitors. It is possible they may do something extra special to make your trip extra magical. Don't expect it and don't ask for it. However, some of my favorite memories of Disney involve spreading that "Pixie Dust" to fellow visitors. Share your space with people during the parades, take glow sticks and share them while waiting for fireworks. Don't be afraid of language barriers, a smile speaks to everyone. Have patience with those around you and don't sweat the little things.
2) Disney is not a place to have preconceived notions of perfection. Your trip can be magical and perfect, but if you are expecting to walk hand in hand with Mickey Mouse down Main Street, you will be disappointed. Having a knowledgeable travel planner can help set realistic expectations, and also find ways to make the improbable happen. The magic isn't measured in rides ridden or Character autographs obtained. The magic should be measured in smiles and memories.
3) Bringing Grandma and Grandpa can make your trip more fun, more magical, more memorable, and even more affordable. They can help keep kids entertained in lines, getting to the parks, and may even be able to watch the kids to allow for a grow-ups night out. The memories made will draw the whole family closer and be cherished for years afterwards. If mobility is a concern, I have been to Walt Disney World with a parent who used a scooter to get around and it did not slow us down. If you are planning to use a scooter for the first time in Disney World, many big box stores provide them for customers, allowing for a free chance to practice.
Introducing your kids to the Disney Characters
1) As magical as you think meeting characters may be, it is possible that your kids may be afraid of them. It is possible to help prepare them by getting them to meet mascots at sporting events or at some restaurants. It is easier for them to meet human characters first, like princesses, rather than cartoon characters which are larger than life to a little kid. Never force the issue, but if your child refuses to meet a character, you could be an example and meet the character while they watch. Or, it is possible to take their picture from a distance with the character in the background.
How to capture Disney World Memories
1) Extra power for cell phones is helpful for taking and sharing photos, managing dining and ride reservations, and for keeping kids entertained in lines. However, you don't want to live with the phone permanently attached to your hand. Capturing a spontaneous moment of magic (without a flash, if forbidden) as a child experiences a ride for the first time is much more important than taking a poor quality video of the ride. I have those videos, I don't watch them. But I treasure the candid picture of my daughter cuddled next to my wife as she experienced Its a Small World for the first time.
Introducing your kids to the rides
1) Rides and attractions can have intense moments, if a child may be scared, it is possible to preview many attractions on the internet. Having a child not be afraid of the unknown may make the difference between them riding and not. But do not overdo the videos and spoil the surprise and magic. However, if they still don't want to ride it is almost never a good idea to force them on it. It is possible to plan the order of rides to build up to the more intense ones.
2) Be willing to see as much as possible through the eyes of a child. I remember leaving Peter Pan's Flight in the Magic Kingdom and my daughter said she thought I enjoyed the ride as much as her. Peter Pan's Flight isn't high tech, it opened with the park in 1971. It definitely isn't thrilling, but it is filled with magic. If I rode it as a jaded adult, I wouldn't have enjoyed it and my daughter wouldn't have that special memory of us bonding on a ride older than both of us.
---
Disney Tips from Kristin
Disney World Planning Tips
1) Pick 5 things that your family would like to do at each park. Then think of other rides and attractions as bonuses. Do not try to do it all in one trip. My daughter and I spent a few hours one afternoon exploring Tom Sawyer Island while my husband took the two little ones back to the resort for a nap. It was fun to explore the island and spend quality time with her without running from ride to ride. She loved exploring the cave with the glowing red eyes.
2) In the heat of the afternoon go back to the resort to swim and take a short nap. When you return to the parks later in the evening, it will be cooler out, the crowds will have thinned and everyone will be happier after having had a break. The kids also love to check out the resort pools!
3) Take time to slow down and look at all of the details in the parks. For example, have you ever read the sign on the office door at the front of the Muppets 3D show in Disney's Hollywood Studios? Most guest just walk right past it. Take a few minutes and read the sign, "The key is under the mat – back in 5!" Take time to lift up the mat and see if the Muppets left the key out for you.
Disney World Hidden Gems
1) There are hidden gems everywhere in the parks. After the Indiana Jones Stunt Spectacular instead of standing in a long line to exit the theater, go down to the stage. If there is time Indiana Jones and sometimes even Marion will come out and greet guests. They will sign autographs and take photos. How many of you would like to return from your trip with a photo with Indiana Jones?
Free at Walt Disney World & Special Discounts
1) It is hot in Florida. Make sure to stay hydrated. Disney offers free ice water at all quick service locations. If the lines look long, talk to a cast member directing guests as they will lead you to the pickup counter and help you get your free ice water. If you are worried about the "funny" taste of the water, go inside. Most of the quick service restaurants will pour your free water from the soda fountain where the water is filtered.
2) Always read your receipts. First, you want to double check the number of dining credits that you have. Second, Disney sometimes adds surprises to your receipts. There are select times during the year when you may receive a coupon for 20% your entire Disney World purchase at the stores on Main Street in the Magic Kingdom or at the World of Disney Store in Downtown Disney.
Walt Disney World Cool Spots
1) When the parks are crowded and hot in the mid-afternoon, if you choose to stay in the parks, enjoy a show in an air conditioned theater. The Hall of Presidents show in the Magic Kingdom is often overlooked, but where else in the world can you witness animatronics representations of all of our former Presidents of the United States of America along with an animatronic current President too? Another great show in the air conditioning is the Carousel of Progress in Tomorrowland.
Best Use of the Disney Dining Plan Snack Credits
1) Use your snack credits to snack around the World Showcase in Disney's Epcot. Each country has some unique snack offerings from the school bread in Norway to the caramel creations in the Karamel Kutchen in Germany to the pastries in France. There are many hidden gems to be uncovered.
EPCOT for Kids
1) Parents may want to spend time exploring the countries in Epcot while children do not. There are two great ways to engage the children. The first is to create a homemade passport for them to have stamped in each country. The cast members will tell the children about their country and write something in their language in the child's passport book. The second is to play the Agent P game. As the children uncover clues around the country that they are assigned, the parents also are able to enjoy the many features of the country as the game will take you throughout the country's pavilion.
New Things to try on your Walt Disney World Vacation
1) Try a new restaurant with new foods that you might not try at home. My family including my three children loves Boma, which is located in Disney's Animal Kingdom Jambo Resort. It is an African buffet, but you will recognize many of the ingredients in the dishes. There is a carving station. One section of the buffet features many flavors of humus with different flavors of chips and breads to try it with. The cast members love to give you a tour of the buffet. Try the zebra dome desserts! Then after dinner before you head back to your resort check out the animals on the savannah. If it is dark, the cast members will provide you with night vision goggles to view the animals with. Disney is all about the story and the experience. Take time to go off the beaten path and explore all that Disney has to offer.
---
Disney Tips from Chad
What Age should my kids be for Walt Disney World?
1) No one is too young for Disney.  We traveled with babies (4 under 4) many times.  The key is to know where all the Baby Centers are in each park.  These centers are a great place to stop with your infants. The changing tables are large, there is darkened room with rocking chairs and instant hot water is available for bottles.  Plus, they are run by the sweetest older ladies you'll ever want to meet.
2) Use a backpack.  A well stocked backpack is of utmost importance.  It's a great way to have what you need and keep your hands free!   Wipes are in it every time!  Even if you are an adult, those Mickey head ice cream bars melt fast in the Summer!
---
Disney Tips from Chris
How to Upgrade your Walt Disney World Tickets
1)  If you're on the fence, don't add any ticket options until you're on property and you're sure you'll use them. You can add them at your resort concierge desk or at the parks. If you do NOT want everyone on your reservation to get the added options, add them at the parks. The resort concierge can only add them to the entire reservation but the parks can add them to each individual's ticket.
Save on Food and Drinks at Walt Disney World
1) Use an outside service to have water, juice boxes and other groceries sent to your resort.  Bottles of water cost about $3 in the parks and juice boxes cost around $2. That's per bottle!  You can buy an entire case for that.  Just remember to account for shipping/delivery fees when you estimate what you'll be saving.
Save Money on your Disney Vacation
1)  Book the room you can afford now, before discounts are announced. When a discount is released, you can move without penalty to your dream resort if you want to upgrade or enjoy further savings.
There are more ways to experience the Disney magic
1)  Don't forget about Disney Cruise Line. It's the easiest vacation you will ever take, pure relaxation, fun, and your Disney fix all on one ship.
Do the Math
1)  Before you upgrade to the Deluxe Dining Plan, do the math and factor in how you will be touring the parks. You can often save money by paying out of pocket for any additional meals you'll need above the Plus Dining Plan.