If you are about to take a Royal Caribbean Cruise, you need to look into the drink packages before you sail to save the most money.
I have you covered.  I have put together a complete list of all the Royal Caribbean drink packages to save you time and money on your cruise.
Royal Caribbean Beverage Package Overview
You can purchase the drink package onboard or pre-reserve before you set sail with a travel agent and save. The beverage packages are honored at any of the Royal Caribbean bars or lounges, Windjammer Café, Main Dining Room, and private destinations during normal business hours. Room service and minibar are not included.  The all-inclusive beverage packages are sold onboard all sailings.
Onboard, the all-inclusive packages are available for purchase throughout the voyage with at least 4 days remaining. All beverage packages must be purchased for the duration of the cruise; prorated price will be based on date of purchase.
Should a guest 21 years of age or older be purchasing an alcoholic beverage package, the following process flow would take place:
• Traveling companion who does not choose to or like to drink alcohol will first be served up the option to choose a refreshment package.
– Refreshment package includes: teas, bottled water, fresh squeezed juice, mocktails as well as soda
– Should they not want to purchase, exceptions will be made based on certain situations – pregnancy, AA member and documented medical reasons
All packages are for single guest use and cannot be shared by multiple people.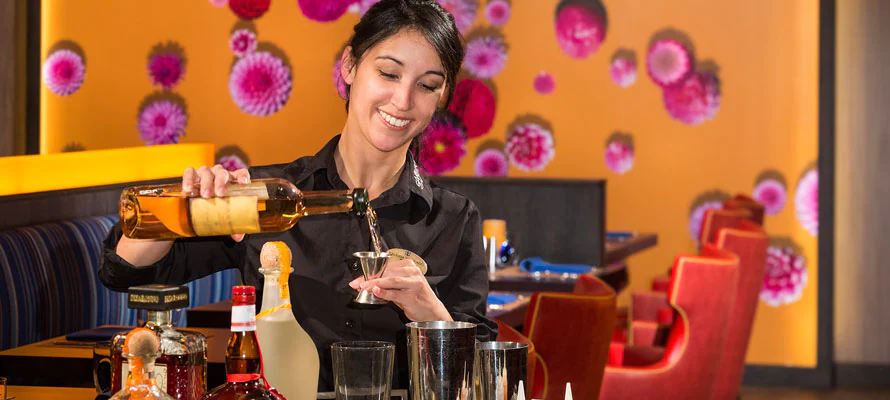 How much is the Royal Caribbean Drink Package?
DELUXE PACKAGE
(From $84 a day USD Excluding Gratuity):
Toast to all-inclusive options
Cocktails, Spirts, Liqueurs, Beer
Bottle still and sparkling water
Wine by the glass
Fresh squeezed juices, Non-alcholic cocktails
Premium coffees and teas
Fountain sodas, Coca-Cola Freestyle beverages
Coca-Cola souvenir cup included
This package includes any single beverage item with a value up to $12. Plus, receive a 40% discount on bottled wines priced up to $100, and 20% discount on wines priced above $100.
Note that the prices I listed above do not include 18% gratuity or 10% VAT (if the sailing is a VAT sailing)
REFRESHMENT PACKAGE
(From $34 a day USD Excluding Gratuity):

This beverage package lets you enjoy the entire selection of:
Premium coffees and teas
Bottle still and sparkling water
Fresh squeezed orange juice
Non-alcholic cocktails
Fountain sodas, Coca-Cola Freestyle beverages
Coca-Cola souvenir cup included
CLASSIC SODA PACKAGE
(From $13.50 a day USD Excluding Gratuity):

Unlimited Thirst Quenchers:
Fountain soda and refills in any venue
Coca-Cola Freestyle beverages
Coca-Cola souvenir cup included
EVIAN BOTTLED WATER PACKAGE
Fresh water from the French Alps
12 one liter bottles of evian Natural Spring Water
From $19.99 USD Excluding Gratuity
24 one liter bottles of evian Natural Spring Water
From $28.99 USD Excluding Gratuity

---
WINE CORKAGE FEE

Yes you can consume a personal bottles of wine or champagne in public areas, you just have to pay a $15 corkage fee per bottle.

You can also bring personal wine and champagne onboard only on boarding day, limited to two 750 mL bottles per stateroom. Additional bottles of wine beyond two bottles that you brought onboard or any alcoholic beverages purchased in ports of call or from onboard shops during the cruise vacation will be stored onboard and delivered to your staterooms on the last day of the sailing.
Q: What venues are considered public areas?
A: Public areas include any of the Royal Caribean bars, lounges and complimentary and specialty dining venues.
Q: Does this apply to bottles purchased through a wine package?
A: No, this only applies to personal bottles brought onboard on embarkation day.
---
Start Planning Your Royal Caribbean Cruise Today!
Get a free quick quote from a Pixie at Pixie Vacations.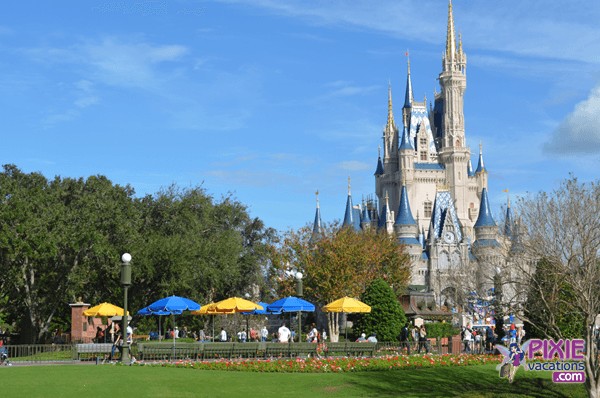 Disney Vacation Packages - There are several ways to save on your Disney Vacation. We have Disney World Discounts that can save you money on your Disney World Resort Room as well as Disney World vacation packages that can save you money on your entire Disney...
read more