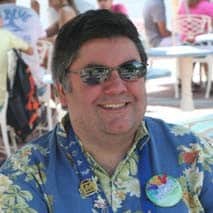 My first trip to Walt Disney World happened in 1979, when I was 11 years old. Since that first Magical trip, I have been 14 other times over the course of those 34 years, and have introduced to my wife Cindy and daughter Sophie a love of Disney that truly runs deep in our family. Sophie will be twelve this year, and she has already been to Walt Disney World nine times! This summer, we are taking our first trip to Disneyland, staying at our home DVC resort at the Grand Californian Resort & Spa!
As the Disney Go-To-Guy in our family, I have always enjoyed helping my family – and other family and friends, for that matter – plan a magical trip down Disney Lane, and helping you and your family plan the perfect Disney vacation is at the top of my list as a Pixie Vacations Travel Agent!
I created the Disney fan blog site My Dreams of Disney on September 8, 2010, as a means to document the memories that our family had created over the years that we took our Disney trips, and the site has grown into a planning site with reviews, tips, tricks, and more to help our readers research what they want to experience on their Walt Disney World vacations!
With Pixie Vacations, I'll be there to help you plan your Disney vacation, book your trip, make dining reservations, make reservations for additional special events, such as a trip to Bibbidi Bobbidi Boutique, and more!
Please select my name on the quote form when requesting a Disney vacation quote, or contact me directly at Mike@PixieVacations.com, and thanks for stopping by!