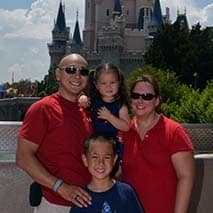 Hi!  My name's Krystal, and I'm a Disney addict.
I have loved Disney for as long as I remember… From meeting my first Disney princess, Snow White, at Disneyland when I was 4 to falling in love with Pluto when I was a teenager at Disney World because he licked my hand at the Polynesian Resort luau… From getting engaged in Italy at EPCOT to now seeing all the magic through theeyes of my two kids… We have so many magical memories as a family thanks to Disney.
Since my son was two months shy of age 2, we've spent our annual vacations at Disney
World, only taking a year off when my daughter was born.  I truly love the planning
stage of a Disney vacation, and I want to share my knowledge and love of Disney with
you.
Let me help you create and plan your next magical vacation.  Contact me today for your
free quote!