Ways to Feel Like Scrooge McDuck on a Donald Duck Budget at Walt Disney World
According to Forbes, Scrooge McDuck continues to be the wealthiest fictional character in the world. Based on Forbes's calculations, Donald Duck's uncle, Scrooge McDuck, possesses a net worth of 65.4 billion dollars. What would a Disney vacation with his bank account be like? Most of us will never know. So how do you experience some remarkable, extraordinary experiences on your Donald Duck-level budget at Walt Disney World?
Most of us will never know. So how do you experience some remarkable, extraordinary experiences on your budget at Walt Disney World?
Donald Duck Budget at Walt Disney World
Instead of pondering how to spend our riches, most of us feel like Donald Duck. We wish we could afford VIP tours or dining at Victoria & Albert's. However, all is not lost in terms of feeling like a VIP at Walt Disney World. Besides all the magic of a Walt Disney World vacation itself, we have a few suggestions for budget-friendly moments of being a Very Important Person at Disney World.
Candlelight Processional Dining Package
The Candlelight Processional at Epcot draws heavy crowds depending on which celebrity narrates this extravaganza. People will line up for hours in advance on the evenings that celebrities like Josh Gad or Neil Patrick Harris narrate the processional. Do you want to avoid most of the waiting? Are you going to eat while at Epcot? If so, we have a cost-effective way to be assured of seeing your favorite celebrity at Epcot.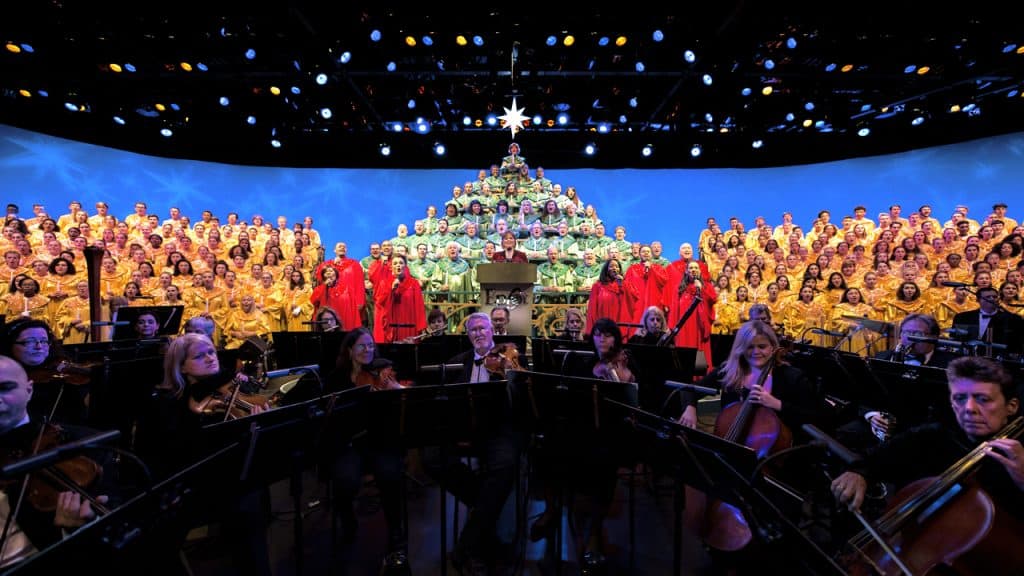 We do not have the official 2023 information yet. Based on last year, guests can expect to book a dining package at one of Epcot's selected table service options. Your meal will include an appetizer, entree, dessert, and a non-alcoholic beverage. If dining at a buffet, your meal will consist of the buffet and a non-alcoholic beverage. Your dining package will include a reserved seat during the Candlelight Processional.
Does the idea of the Candlelight Processional not appeal to you? Maybe a band you enjoy will be playing at Epcot during one of the other festivals. Dining packages will be set up for those events also. The VIP feeling of avoiding a long wait since you have a reserved seat might make you feel less like you are on a Donald Duck budget. In fairness, this is Disney, so you will have to wait in a queue before being allowed to your seat. However, you enjoyed a nice complete meal and reserved seats. You are a VIP for at least a few hours.
Carriage Rides
Did you know that Walt Disney World offers horse-drawn carriage rides? Would you enjoy the elegance of a carriage ride at a Walt Disney World Resort? Guests can enjoy these at Port Orleans Riverside Resort (departs in front of the Riverside Levee Marina) or Fort Wilderness (departs in front of Crockett's Tavern at Pioneer Hall) for $55. Guests book these through My Disney Experience. The carriage ride lasts 25 minutes. Up to four adults can ride. Annual passholder, Disney Vacation Club, and Disney Visa discounts are available to lower costs even more for this memorable experience.
Minnie Vans
Suppose you scored a dining reservation for Hoop-Dee-Doo Musical Revue. Your family cannot wait to enjoy this long-running Walt Disney World dinner show. However, no Walt Disney World Resort offers direct transportation to the Fort Wilderness, where the Hoop-Dee-Doo Musical Revue happens. Also, you'll need to use the internal bus service at Fort Wilderness once you arrive there to get back to Pioneer Hall for your dinner show. This means you must take three bus rides to make it to your dinner show. That does not feel very VIP-like.
For around $40, a "Minnie Van" will pick you up at your Disney hotel. These vans hold up to seven people. The best part of this scenario relates to the drop-off with this service. The Minnie Vans will take you to Fort Wilderness. After that, it will drive past the area the Disney bus service stops, and cars are allowed to go directly to Pioneer Hall. You will be dropped off literally at the door for your dinner. Minnie Vans also skip the Ticket and Transportation Center area if you want to go to Magic Kingdom. The Minnie Van functions as your own special VIP shuttle. As Disney states on its website, "Get around in style with this whimsical personal ride service—just use your smartphone to request a ride through the Lyft app."
Topolino's Terrace on a Budget at Walt Disney World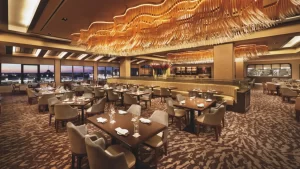 Speaking of dining at Walt Disney World, Disney offers some of the best dining options. Though opinions will differ, the most challenging restaurant at Walt Disney World to get a reservation is Topolino's Terrace – Flavors of the Riviera. This signature dining establishment sits on top of the Riviera Resort. This restaurant offers fantastic views and even better cuisine.  If you have one meal here, you will understand why reservation can be tough to acquire.
However, what if you do not score a dining reservation for the elegant dinner at Topolino's Terrace? You could take the elevator to the tenth floor at Disney's Riviera Resort and tell the staff you will sit at the bar. You could enjoy drinks and some food. After that, you could enjoy the view from the outdoor portion of this rooftop bar.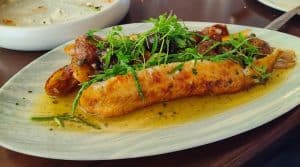 If you order the Ricotta appetizer, share the Classic Sole Meunière, have one drink each, and share one of the incredible desserts at Topolino's Terrace, two people can dine like a VIP for about $120 plus tax and tip. Though this might sound excessive on a Donald Duck budget, this dinner will be worth it.
Obviously, you could choose to dine at the California Grill or some other equivalent Disney restaurant. However, then you are looking at paying twice as much for dinner. Topolino's Terrace makes everyone feel like a VIP.
Fireworks Cruise
Do you have a large group wanting to do something special on your Walt Disney World trip? Would you like to take a unique boat ride to view the fireworks at Magic Kingdom or Epcot? How does avoiding the crowds during and after the fireworks sound? Walt Disney World offers fireworks cruises.
Disney states this about the Fireworks Cruise, "From the comfort of a chartered boat, your party will set sail for International Gateway near World Showcase Lagoon to watch the skies light up over Epcot. Or, embark on the waters of Seven Seas Lagoon and Bay Lake cruises to Magic Kingdom park—with synchronized audio onboard to fully immerse you in the moment. It's an incredible finale to the festivities!"
The current pricing starts at $399 for your group. The price may be higher depending on the time of year. Obviously, this price for a small group fails to be very cost-effective for a Donald Duck vacation budget. However, what if you have a group of eight to ten? The price point of $40 to $50 each looks good.
Helping You Feel Like a VIP but on a Budget at Walt Disney World
On the cruise, you receive more than just a boat ride to view fireworks. Disney states, "Each cruise is accompanied by a captain and includes assorted snacks and soft drinks. Festive banners and balloons are also included in the cost—and can be requested at the time of booking." Also, you may bring whatever additional drinks and snacks you want.
This method of watching the fireworks from a 25-foot boat with family and friends can make your group feel important, like a real VIP for the evening. This boat will take you back to the dock, avoiding all the crowds leaving the theme parks after the fireworks. Avoiding the masses might be worth it all by itself. The dock pick-up and drop-off areas are:
Contemporary Marina
Polynesian Marina
Grand Floridian Marina
Fort Wilderness Marina
Wilderness Lodge Marina.
Take a Behind the Scenes Tour
Walt Disney World offers several special behind-the-scenes tours. These vary in price. We think the "Behind the Seeds" tour at Epcot is a cost-effective unique tour. This costs $35/ per person. Now, theme park admission is not included with this tour, so you need to have theme park admission already.
On the "Behind the Seeds" tour, guests "explore the future of agriculture during this up-close and personal backstage walking tour of The Land Pavilion."  On this tour, you go backstage to Epcot's Living with the Land attraction. Also, on this one-hour tour, you view the fish farm and four greenhouses that comprise The Land Pavilion. You learn from talented cast members about the facility. Also, you can taste some of the vegetables grown at the facility. You might even enjoy a cucumber, with permission, of course, from the cast member leading your tour.
A Walt Disney World vacation offers so many magical experiences. Nevertheless, the price for these experiences can stress your bank account. However, some of these options can make you feel less like poor ole Donald Duck and more like his rich uncle for a part of your Walt Disney World vacation.
Please consult your travel advisor for guidance in finding your group's VIP-like experience. Remember that your travel advisor's services are free to you. If something goes wrong with your booking, you will have support from them to guide you through the Disney maze.
Start Planning Your Disney Vacation Today!
Get a free quick quote from a Pixie at Pixie Vacations.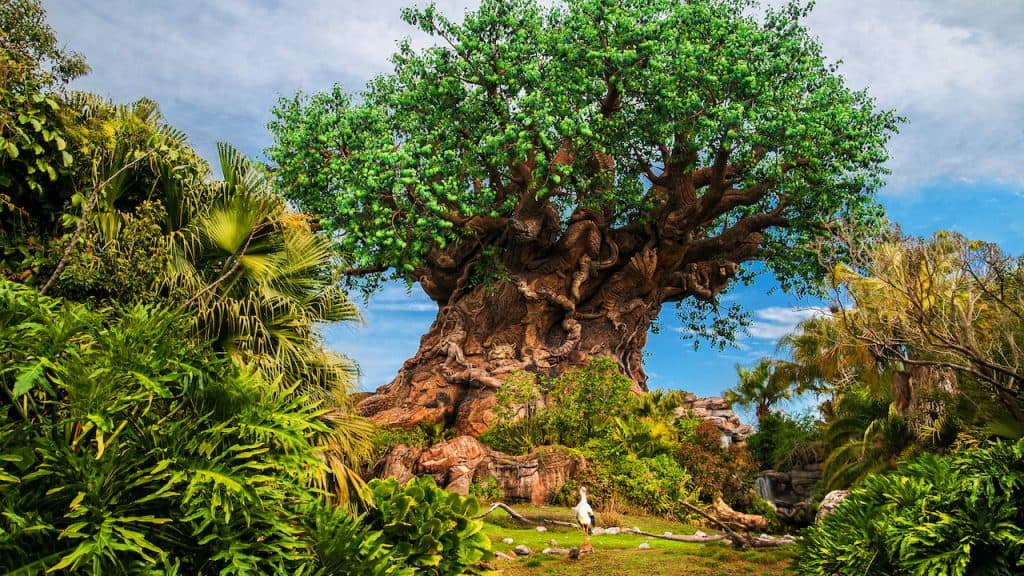 Disney's Animal Kingdom offers a wide variety of dining choices. Which ones are the best places to eat at Animal Kingdom? Roy E. Disney said at Animal Kingdom's official dedication ceremony on April 21, 1998, that "Disney's Animal Kingdom, like the world itself, will...