Sometimes, I experience things that remind me that I am older than some. For example, I remember before Happy Meals existed at McDonald's. In addition, I remember Walt Disney World annual passes costing less than $200. Fortunately, this article possesses no intention of solving current dilemma of annual passes.
Still, I remember visiting Walt Disney World before FastPass queues. As you may know, FastPass system disappeared when Walt Disney World reopening in July 2020. In October 2021, Walt Disney World instituted the long-expected Genie system. For a successful Walt Disney World vacation, you will want to understand the terms Genie, Genie+, Lightning Lane, and individual lightning lane paid access. The purpose of this resource is to provide a basic working knowledge of the terms used with this new Walt Disney World system.
WHAT IS DISNEY GENIE? (Free Service)
In simplest terms, Genie works as an upgrade to the previous "My Disney Experience" application. According to Disney marketing, "You've Never Had a Friend Like This!" The new Disney mobile app offers several new FREE improvements over previous Disney apps.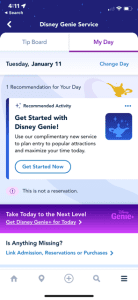 The Disney Genie service helps create a plan for your theme park day informed by your group's top interests. In other words, the application will ask if you want to prioritize things like princesses, Marvel, Star Wars, and/or coasters. According to Disney, the system will devise a plan that saves you time to enjoy these priorities. Disney Genie gives attraction and dining recommendations "supposedly" inspired by your stated interests.
The system suggests good times to visit certain experiences with reduced wait times. However, we have noticed that the Disney Genie system might not pick the best selections. In simple terms, do not trust Genie advice on best ways to tour the park.  At least until Disney Genie has more time to get the kinks worked out. We will offer more information in a future blog artivle about that.
A positive with the Free Disney Genie service is that it offers better online maps now. As well, Disney Genie provides an upgrade in guiding guests with Disney dining options. The tip board within the Disney Genie app has improved. Disney's marketing says: "This new feature will let you see estimated wait times for your top attractions, entertainment and dining." You can also order food, make dining reservations, and check into a restaurant.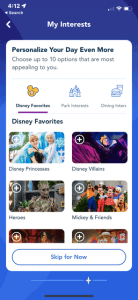 Also, Disney Genie offers the "My Day" tab. "Disney Genie works hard all day long to continuously update your "My Day" itinerary with all of the latest and greatest information. Simply tap on this tab to find Disney Genie recommendations and plans you've made, including dining reservations, Disney Resort hotel reservations and activity bookings. You'll also be able to virtually chat with a Cast Member who can help answer any questions that arise." The guest reports about these features rate as average currently but Genie is new and still getting its feet wet.. Genie itself may be a mixed bag but the real fun and features start with Disney Genie+. Yes, Disney does to seem to have picked the most creative name simply adding a "+" after Genie.
Before we move on to the paid service, one probably annoyance should be mentioned. The New Disney app with Genie burns through phone battery power. Make sure to bring a portable charging device of some type for a long day at the parks.
WHAT IS GENIE+ (Paid Service)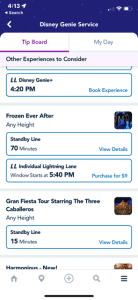 The Genie+ paid service replaces the former FastPass queue system. At Walt Disney World, guests may purchase this service for $15 plus tax per day per person. However, guests are not required to purchase this service. In fact, most experts would suggest not purchasing on certain days and for certain theme parks, but we can get into that in more detail later on. Guests that purchase Disney Genie+  have the opportunity to avoid the standby queue at many attractions (NOT ALL) to enter a shorter queue. I keep using the term "opportunity" since buying Genie+ in no way guarantees you will get access to some attraction's shorter queues. Since you can only book one Genie+ lightning lane slot at a time, attractions you want to ride on busy days might become unavailable. You may not book another Genie+ lightning lane slot until either :1) you use your booked one, 2) your reservation time expires, or 3) it has been 2 hours since you booked your last Genie+ reservation. This is why it's very important to plan your Disney vacation and using a travel agent can be very helpful with how to navigate Disney Genie and Genie+ with some one on one hand holding.
It's important to note that if you don't ride and let your Genie + reservation expire more than 15 minutes, Genie+ reservation expire more than 15 minutes. you may not be allowed to use that expired reservation. Since you can only get one lightning lane slot per attraction per day, then you should use them wisely. You can use the standby queue as many times as you want but only one lightning lane per attraction.
Also, with the 2-hour window aspect, you can hold several Genie+ lightning lane slots at once. For example, if at 7 AM, you book Jungle Cruise, getting a timeslot around noon, then you can book another attraction before using the Jungle Cruise one. However, your two-hour window to wait starts at official park opening. In other words, if Magic Kingdom opens officially at 9 AM, you can book another lightning lane slot at 11:00 for later in day. With the current system, you can book a Disney Genie+ attraction whenever you no longer have any booked or every two hours after park opening.
Now, you may purchase Genie+ in advance with your vacation package for every day of your Walt Disney World stay. Alternately, guests may purchase Genie+ starting at midnight on each day of their park reservation. Currently, these are only two ways to purchase Genie+. Please consult your travel expert at Pixie Vacations to see if purchasing Disney Genie+ in advance as a part of your vacation package works for you. The one huge advantage of that involves less things to do every morning before 7 AM in preparation to getting to the Disney Parks. However, booking daily allows you to only buy it on the day you need it.
              Yes, this means someone in your group will either stay up late or wake up early to purchase Genie+ each day if not purchased in advance. 
With a Genie+ purchase, you may gain access to the following attraction's potentially shorter queue:
MAGIC KINGDOM GENIE+ RIDE LIST
Big Thunder Mountain Railroad
Buzz Lightyear's Space Ranger Spin
Dumbo the Flying Elephant
Haunted Mansion
"it's a small world"
Jungle Cruise
Mad Tea Party
Mickey's PhilharMagic
Monsters Inc. Laugh Floor
Peter Pan's Flight
Pirates of the Caribbean
Splash Mountain
The Barnstormer
The Magic Carpets of Aladdin
The Many Adventures of Winnie the Pooh
Tomorrowland Speedway
Under the Sea ~ Journey of The Little Mermaid
EPCOT GENIE+ RIDE LIST
Disney and Pixar Short Film Festival
Journey into Imagination with Figment
Living with the Land
Mission: SPACE – Green
Mission: SPACE – Orange
Soarin' Around the World
Spaceship Earth
Test Track
The Seas with Nemo & Friends
Turtle Talk with Crush
DISNEY'S HOLLYWOOD STUDIOS GENIE+ RIDE LIST
Alien Swirling Saucers
Beauty and the Beast Live on Stage
Disney Junior Play & Dance!
For the First Time in Forever: A Frozen Sing-Along Celebration
Indiana Jones Epic Stunt Spectacular 
Millennium Falcon: Smugglers Run
Muppet*Vision 3D
Rock 'n' Roller Coaster Starring Aerosmith
Slinky Dog Dash
Star Tours – The Adventures Continue
The Twilight Zone Tower of Terror™
Toy Story Mania!
DISNEY'S ANIMAL KINGDOM GENIE+ RIDE LIST
Celebration of the Festival of the Lion King
DINOSAUR
Feathered Friends in Flight!
It's Tough to Be a Bug!
Kali River Rapids
Kilimanjaro Safaris
Na?vi River Journey
The Animation Experience at Conservation Station
These normally shorter queues go by the name of LIGHTNING LANE. If you were familiar with the former FastPass lanes, Disney rebranded them.  These lightning lane queues are very similar to former FastPass queues. However, unlike former FastPass system, guests may not choose the exact timeslot they want. With Genie+, you get the next available timeslot. This adds some strategy to the Disney Genie+ aspect of planning. In addition, there exists no "modify" feature. Once you have a lightning lane slot selected, you can cancel it but you might not get that same attraction at a later timeslot, it might already be booked up.
Before you can decide if the Disney Genie+ paid service fits your vacation, we need to define "individual lightning lane paid access." Yes, all this can get a little complicated but we are here to help you out.. 
INDIVIDUAL LIGHTNING LANE PAID ACCESS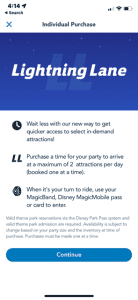 With the new Genie system, up to two attractions at each of the four Walt Disney World theme parks have been designated as individual lightning lane attractions.. These attractions offer lightning lane access. However, access to these attraction's lightning lane is not included with your Genie+ daily purchase, but as an individual pay to ride attraction. 
The good news is that you do not have to buy Disney Genie+ to enter these special attraction's lightning lane. You would  pay  individually to access the lightning lanes of these specific attractions. Current pricing ranges from $7-15 per person per attraction to enter these special attraction lightning lanes. As you might imagine, the "special" attractions are some of the most popular ones. Currently, the attractions with individual paid access to the lighting lane are:
Magic Kingdom – Seven Dwarfs Mine Train and Space Mountain (When/If the Tron themed coaster opens, we expect Space Mountain to move off this list to be a Genie+ attraction)
EPCOT – Remy's Ratatouille Adventure and Frozen Ever After (We anticipate when Guardians of the Galaxy Cosmic rewind opens, that Frozen Ever After will move off this list to a Genie+ attraction)
Hollywood Studios – Rise of the Resistance and Mickey's Runaway Railway
Animal Kingdom – Flight of Passage and Expedition Everest (Expedition Everest is currently being refurbished) 
SPECIAL NOTE: During the busy crowd level week of winter holiday season in 2021, one of the above attractions was removed from individual paid access to Genie+ access. Those attractions were Space Mountain, Frozen Ever After, Mickey's Runaway Railway, and Expedition Everest. Also, Remy's Ratatouille Adventure formerly used boarding pass system instead of a standby line. That changed on January 10th, 2022.
How do I purchase individual lightning lane paid access? If you are an on-site hotel guest, you may start early. At 7 AM on the day of your park visit, you "summon" Genie.  Then, you find that attraction in the app. You should see "purchase lightning lane access" under the attraction's name. You should then select a return time similar in pattern to old FastPass system with ability to select from available time slot. Please do not be surprised if your timeslot disappeared as you select and you get slightly later time. Some of these slots disappears quickly like for Rise of the Resistance.
If your payment card is properly linked, you will be given a lightning lane slot. Remember everyone in your party must be linked since you will need to pay for everyone to get access. 
Now if you are not staying on-site, you may not pay for individual lightning lane access until the official opening of the park you hold a reservation for that day. Highly desired attractions like Rise of the Resistance have been known to "sell out" near official park opening each day. This phenomenon happens more often on higher crowd days like Thanksgiving week.
Guests can purchase two individual paid lightning lane access attractions per day. You can purchase them in more than one park if desired. This can be helpful if changing parks during your day. However, the limit for this feature is two per day not two per park. 
In a future blog article, we will cover some specific strategies to using Disney Genie, Disney Genie+ and Individual Lightning Lane Attractions. 
 So far guest reaction to this system stands as mixed, but it is brand new and still going though updates and changes.
The  planning and education needed for all the new things happening at  Walt Disney World can be overwhelming.  We are here to help you plan and book your Disney vacation and help with all your Genie+ questions. Your Pixie Vacations travel experts will be happy to guide into the best use of your time and money on your Orlando area vacation.
Jon Self is an avid theme park fan who has the high privilege to serve as a pastor at an American Baptist Church (fbcmacomb.com) while also trying to find the proper life path with his loving spouse, a bigger theme park fan than Jon. You can follow him at @pastorjonself on Twitter. Jon writes for touringplans.com and uogrubhub.com. He also writes for faithelement.net.
Start Planning Your Disney Vacation Today!
Get a free quick quote from a Pixie at Pixie Vacations.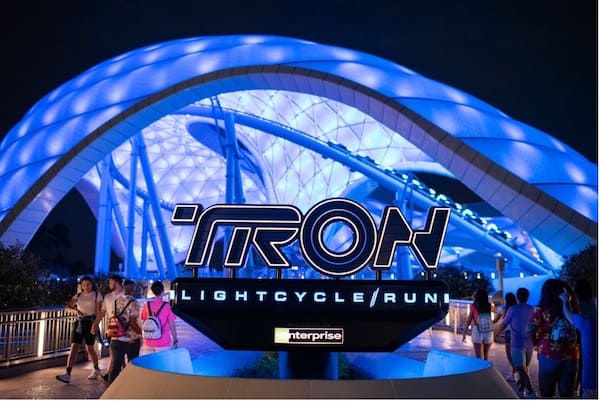 So much is happening at Walt Disney World in 2023 that we created a full article to cover it all. What's your favorite Disney Thrill? Whether it's giving a beloved character a big hug, showing off the perfect pair of Minnie ears or giggling your way through an...
read more