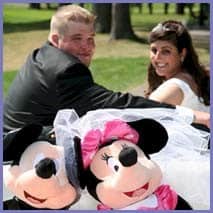 Hi –
My name is Sarah! I am a lifelong Disney fan and love traveling to Walt Disney World, Disneyland, and sailing on board the Disney Cruise Line.
In 2004, I surprised my now-husband, Steven, with his first ever trip to WDW. He's been hooked on the Mouse ever since! This trip was also the beginning of my Disney planning obsession. If we're not actually AT a Disney Destination, I'm planning our next vacation.
I've vacationed with kids, with adults, as a solo traveler, on a budget, and even splurged on a 12-day honeymoon at Disney's Animal Kingdom Lodge in 2009.
I bring a breadth of knowledge and a true love of all things Disney to my vacation planning. My clients receive the highest level of customer service throughout the planning process. We work together to create a customized, and magical, vacation, saving you time and money.
My services include:
*Concierge level service from start to finish
*Continuous reservation monitoring for applicable discounts
*Complete itinerary planning, including dining and recreation arrangements
Please select my name on the quote form when requesting a Disney vacation quote.
~Sarah Inkin