Richard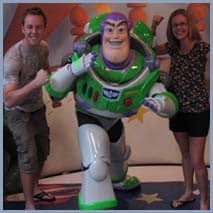 Hi, my name is Richard and I live in Boulder, Co.
Well, you could say that from an early age I've been wishing upon a star. I literally have been planning Disney trips since I was eight years old when I put together my family's first, 3-day trip to Walt Disney World.
From then on I was hooked. The vacations just got longer and longer and better and better. 4 days. 5 days. 7 days. In fact, when my wife and I got married in '03 we even did a 2 week honeymoon to Disney World! And it was actually affordable!
As of today, I have spent over 500 days at WDW. My wife has done over 300. In addition, I graduated the WDW College Program in 2001; The College of Disney Knowledge in 2011; was a Cast Member in the Magic Kingdom; was a vacation planner for the world's largest resort located adjacent to Disney's Animal Kingdom; and I'm currently writing a tips/advice book about WDW.
I GUARANTEE that with my assistance planning your vacation not only can I save you money, but I can also save you AT LEAST 2 HOURS PER DAY in the Parks! I love Disney. I know all the tips, tricks, and advice for Disney World AND the surrounding areas and attractions and will save you time, energy and money.
I have helped hundreds and hundreds of Guests plan their trips and would love to help you. With me you will DO more and SAVE more.
Thank you so much for letting me live my dream of making YOUR dreams come true!
Please select my name on the quote form when requesting a Disney vacation quote.