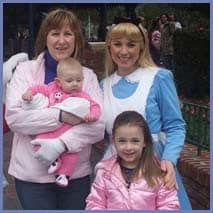 Hi! I'm Lisa, your Disney Vacation Specialist!
My husband, Steve, and I started Pixie Vacations as an extension of our passion for all things DISNEY! We are both past Cast Members of the Walt Disney World Resort. I worked in the Magic Kingdom, and he worked at the Grand Floridian. We were each there for several years, enjoying every minute of it.
My first trip to Disney World was in 1976. We stayed at Disney's Fort Wilderness. I have very fond and vivid memories from this trip that will likely stay with me forever. I took my first ride on Space Mountain. I was so overwhelmed with excitement, I couldn't contain myself. This was the beginning of my obsession.
I traveled to Disney World with my high school band in '86 and '88; then in college in '90. On this last trip, I knew I would someday work for Mickey Mouse.
My husband and I have been to Disney World countless times. We have introduced our daughters to the Magic of the Mouse. We are Disney Vacation Club members with ownership at the Beach Club and Old Key West. Steve and I have traveled on the Disney Cruise Line. I've been to Disneyland a couple of times too. Steve has been to Disneyland Paris a handful of times too.
I know and love Disney. I would like to share my experience and knowledge with you, so you can become as enthusiastic as we are (if you're not already!). We do not currently offer destinations other than Disney Destinations. We are promoting our first love of travel, and that is Disney. I am not the one to call if you want to go to the Grand Canyon. But if it's Mickey you yearn, give me a call! I can feed that hunger!
Contact Information:
Please select my name on the quote form when requesting a Disney vacation quote.
Testimonials:
Carolina, Mill Springs Academy – The trip was excellent. I want to thank you for everything you did. I, as a chaperon and group leader, felt that every aspect of the trip had been taken care of: air and ground transportation, lodging, meals, park tickets, etc… Everything!!! The seniors had a blast and the adults felt like they were on vacation more than a school trip. Thank you, thank you, thank you! I can't say it enough. You did an amazing job preparing and setting up the trip: it was an experience that none of us would forget!