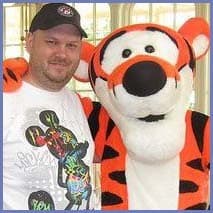 HI! My name is Jay, and I am a Disney nut!
I'm currently in the Twin Cities metro area of Minnesota. I've lived
here most of my life, with sprinklings of Sioux Falls, SD;
Bettendorf/Davenport, IA; Chicago, IL; and Madison, WI.  I've been in
the Hospitality Industry (hotel management) for close to 9 years now,
after spending a few years working as a Rides Team Lead at Valleyfair.
I thoroughly enjoy Disney and all that it stands for! I am a graduate
of the College of Disney Knowledge (including the "graduate program"),
the Disney Institute program "Disney's Approach to Quality Service"
and have attended many tours and several of the special events Disney
offers throughout the year (Epcot's Flower and Garden Festival, Star
Wars Weekends, Epcot's Food and Wine Festival, Mickey's Not So Scary
Halloween Party, Mickey's Very Merry Christmas party.) I always love
to plan a special surprise any time I take someone to Disney World.
My favorite character is Tigger… I get extremely hyper when I see
him in the parks, and I have hurt myself as a result. Watch out for
the curb on those sidewalks in the UK pavilion in Epcot 😉
Let me help you plan your Walt Disney World, Disneyland, Disney Cruise
Lines, or Adventures by Disney vacation!
I can help by:
* monitoring for discounts and applying them to your reservation after
it's been made to ensure you get the best rate possible!
* booking all of your advanced dining reservations, tour reservations,
recreation reservations, or anything else!
* creating a personalized itinerary so your family can get the most
out of your time!
All my services are always free of charge! Contact me today to start
your quote or get more information!