Heather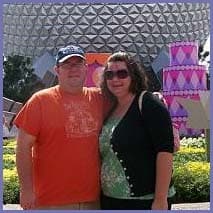 Hi! I'm Heather one of the world's biggest Disney fanatic's.  My first visit to the Magic Kingdom was at age 2, I walked down Main Street USA looked at my mom and told her that I was going to marry Mickey Mouse and live in Cinderella's Castle.  Needless to say Mickey is spoken for and they still won't let me live in the Castle…
I was lucky enough to grow up with Walt Disney World in my backyard, so I'm no stranger to the parks.  I have had the pleasure of working for the Walt Disney World Company in ticketing and resorts, Universal Orlando in attractions, guest services and marketing, and Sea World Orlando at Discovery Cove in the guest services/special events department.
While working for Disney I picked up a couple of secrets like the best time to eat or hit up a great ride.  As a current passholder I have found the best places to watch shows and find interesting items. Because my family is so large and unique I have experience planning Grand Gatherings (groups of 8 or more) to lazy park days.
With my services:
You won't be charged a fee (vacations are expensive enough).
I will check on your package to see if the price drops to save you money (who doesn't love to save)
A detailed planned itinerary (so you always know where you're going and when)
Advanced dinning reservations (who doesn't love to eat?)
I will treat your trip as if it was my own; making sure everything is up to my standards (which are pretty high). So send me a message telling me about your family and their perfect Disney vacation.  I tend to make dreams come true.
Please select my name on the quote form when requesting a Disney vacation quote.