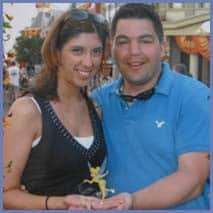 Hi! My name is Elaina and I would absolutely love to help you plan your Disney vacation!
I've been a huge Disney fan ever since I was a little girl. I'll never forget at the age of seven watching the episode of Full House when the Tanner family visited Walt Disney World.  I dreamed of walking in their footsteps, going to Disney World and staying at Disney's Grand Floridian.
After I graduated college, my boyfriend made all my Disney dreams come true. Even though I didn't think it was possible, I fell in love with Disney even more. Now we make a trip to Disney every year without fail.
I know understanding the Walt Disney World Resorts and planning a vacation can seem overwhelming. There's just so much to do! Let me help you and your family plan get the most out of your visit. Together, we'll create a custom itinerary to ensure you make the most of all Walt Disney World services and benefits. Best of all, my services are completely free. Your only obligation is to have the best vacation experience ever!
I love everything about Disney and I absolutely love sharing the magic of Disney with others. Disney truly is an incredible experience and I cannot wait to help you create some fantastic Disney vacation memories of your own.
So no matter what stage of the process you are in, what your budget is or what your Disney dreams are, I can help make them all come true!
Please select my name on the quote form when requesting a Disney vacation quote.