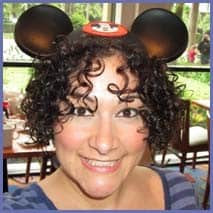 Hi'ya pals!
My name is Brandy Leigh and I'm a very passionate Disney fan.
While I was still a teenager I was hosting daily tours through the rivers of Disney as a skipper on The Jungle Cruise at Disneyland Park in California. As a young lady I was married at the Disneyland Hotel. When my daughter was just 7 weeks old she had her first trip into the gates of the Happiest Place On Earth. My daughter and I are Disneyland annual passholders, despite us being recently relocated to Texas. I have travel to Walt Disney World on several occasions and cruised the seas on the Disney Cruise Line.
Besides visiting the parks, talking about them is one of my favorite hobbies. I also love to blog. I have been invited to be a guest blogger on Disney fan pages and am looking to start my own Disney themed blog soon. It seems can't get enough Disney in my life, but I would love the opportunity to bring some pixie dust into yours!
Contact me for a free quote and concierge level service. Along with my Disney knowledge and access, I bring my sparkling personality and enthusiasm. Contact me and let me spread the joy of Disney to you and your family and help you create magical memories that will last a lifetime.
Please select my name on the quote form when requesting a Disney vacation quote.