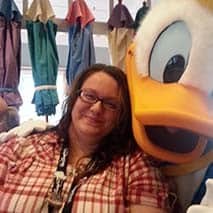 Hi I'm Angelica!
My first trip to Disney World was when I was 17 years old, and I was hooked from the moment I saw that marvelous castle on the horizon. It still brings tears to my eyes when I think about it. When I was a child my mother instilled in me a love for Disney and it has only grown over the years. My husband calls me obsessed… i call myself devoted to Disney.
As a mother of 2, I plan on showing my children how truly magical Disney vacations are. Our 2nd trip as a family is this October. This will be our daughters first trip and we plan on making it magical and memorable. We always stay on property to enjoy the Disney touches we have come to love.
I can offer free itinerary planning, book dining reservations, monitor potential discounts and more all free of charge.
Please select my name on the quote form when requesting a Disney vacation quote.