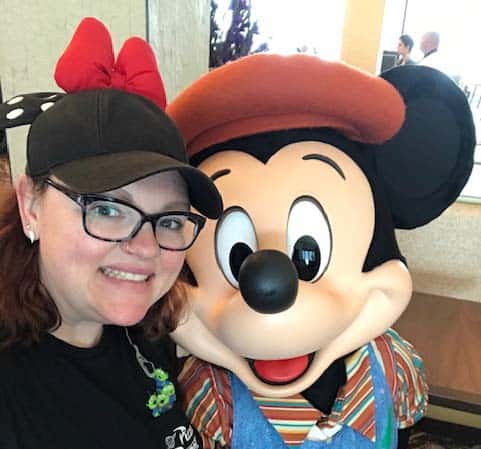 Stephanie
Hi! My name is Stephanie,
I have been married to my wonderful husband Dave for 13 magical years. We have a beautiful princess named Addy who is 9. My husband and daughter didn't stand a chance with my passion for travel and love for Disney; needless to say they have become Disney fanatics just like me!
I am Disney obsessed and proud of it! I grew up on Disney. The Little Mermaid was and still is my absolute favorite! We took a family trip almost every year to Disney. I have happily continued the tradition, sometimes more than once a year.  I have been to Disney World countless times; I discover something new and amazing each and every trip I take. I love to stay on site; the resorts are beautiful, convenient and offer many amenities. I have been on several Disney cruises and have traveled to Disneyland. I plan to visit many Disney parks and destinations in the future.
I would be more than happy to help create magical memories for you and your family. I can help with Disney, Universal, cruises, all inclusive resorts, Hawaii, and so much more. I hope to hear from you real soon!
Email: Stephanie@PixieVacations.com
Facebook:https://www.facebook.com/StephaniesPixieVacations/
What My Guests Are Saying…
Every detail she handled….I'm a nervous Nellie and was so worried about having to handle the fast passes and dinner reservations it was so wonderful to express our needs and for her to handle fulfilling them. Through out our trip we kept saying "we love Stephanie" every move we made we were so excited to see what she planned. We're hooked and cannot wait to book again. Disney fund has started lol!! Thank you for employing Stephanie, she is a true asset I can tell you our vacation superseded our expectations.
With Warm Regards,
Hi,
Thank you! We had an absolutely wonderful time! And the weather was gorgeous! I absolutely loved going this time of year we were able to experience Halloween one night & Christmas the next! It was amazing!
The treehouse was wonderful. The space was awesome and the kids loved it. I would recommend it to anyone looking to be away from the hustle & bustle of the parks.
As far as your service, I couldn't have been more happy! I could not have done it without you! Thank you for all you did for us ?
I will definitely keep you in mind for future trips.
My family and I just returned from a vacation of a lifetime to Walt Disney World.  I was fortunate to have been put in touch with Stephanie at Pixie Vacations, who made the trip planning painless, and the experience unforgettable.  In addition to the countless emails and texts she sent to respond to my endless and relentless questions, Stephanie made it clear she genuinely wanted to make this vacation a wonderful experience for my family.  She set up everything from Dining Reservations to FastPass+ schedules, all of which made the family time that much more special.  I have told and will continue to tell anyone who will listen just how wonderful a job Stephanie did.  Furthermore, in addition to all of the time she spent planning our vacation, she did so for over $500 less than I would have been able to book this trip directly through Disney.  I truly cannot say thank you enough to Stephanie and Pixie Vacations.
With Warm Regards,
From the very beginning Stephanie was great at guiding our family vacation.  She was very flexible with my schedule and preferred method of communication and understood how to plan a vacation for our family with a Grandparent included.  She went above and beyond with making suggestions for restaurants to activities to providing a special autograph book for the kids.  We stayed at The Contemporary and she secured a wonderful time with a Chef Mickey booking and an early morning Be Our Guest Booking that allowed us into the park early for great photo opportunities.  She was always making sure our questions were answered and our favorite piece of advice from her was to stop at the Osborne Lights at Hollywood Studios-that was the highlight of our vacation.  We definitely recommend booking with Stephanie at Pixie Vacations for your next travel experience.
Stephanie has already planned 2 of our trips we have been on and has 2 more planned. Every detail is taken care of within the hour, has spent hours and hours making/changing adjusting whatever we wanted. Follow-up upon check-in. Any question I had as well as last minute dining and resort changes accommodated, all with professionalism. I have referred about 6 people who have booked, 2 of which have already completed trips and have raved about her services. She truly is an asset to your company. One of your best.
She has researched and researched every possible room option for our upcoming Alaska cruise and has gotten a party of 13 all together, dining together as well as room requests, etc. I continue to refer her and she continues to impress me each and every trip. Please feel free to call for additional information.