Matthew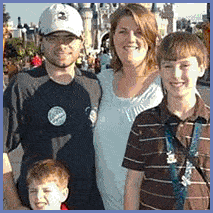 My name is Matthew and, I admit it: I am a Disney fanatic.
My first trip to Disney World was when I was 4 years old and we stayed at the Polynesian Resort. During a trip in 6th grade, I decided that I wanted to one day work at Disney World and in 1995, my dream came true. I was selected to join other students for the College Program, spending a summer at the Grand Floridian in Bell Services. Now, I have spread the fanaticism down to my children (much to my wife's chagrin) and we are always on the look-out for the next opportunity to go to Disney World.
So, how can I help you out?
Being a former cast member, I can give some inside knowledge and tips about Walt Disney World. Also, I can help you with the following FREE services:
* Itinerary planning to save you time and get the most out of your vacation
* Disney Dining reservations
* Reservation monitoring to find you discounts should they become available even AFTER you book your reservation.
Planning a Disney vacation is a wonderful experience, but can be quite daunting. Let me put my expertise into practice for you so that you can have a hassle free trip!
Please select my name on the quote form when requesting a Disney vacation quote.
Client Testimonials:
DARRIN J. KARCHER, O.D. – Just wanted to take the time and thank you for everything you have done for us and our Disney vacation. We had a wonderful time and all the recommendations/reservations were awesome! The dining plan restaurants you recommended were exceptional, and the Beach Club resort was impressive! The Star Wars Weekend was great too despite some rain. Our daughter got to meet Chewbacca (her favorite lol) and other favorites.
We will definitely recommend you and Pixie Vacations to our friends and hopefully in the future we can make it back.
Thanks again for everything!