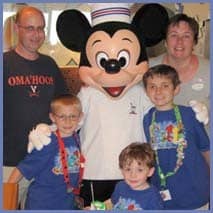 Hi, I'm Leslie!
I've been an avid Disney fan since the age of 8, when I first visited Walt Disney World for my birthday.
Other memorable trips include leading my high school marching band down Main Street in the
afternoon parade (after watching the Space Shuttle soar overhead while we were waiting to start!), my
honeymoon where I introduced my new (British) husband to the magic of Disney, and of course every
trip since with our 3 boys.
I love to share my passion for Disney with friends and family members, and I have been helping others
plan their family trips for years prior to joining Pixie Vacations. I truly believe that there is no other
company or destination that exemplifies gracious guest service as well as Disney. They take "be our
guest" to a whole different level! As a graduate of the Disney College of Knowledge, I'd like to share my
knowledge and passion with you, by helping you plan the perfect trip to Walt Disney World, Disneyland,
Aulani, or a Disney Cruise Line voyage. If you're ready to have an in-depth cultural experience in the
larger world, Adventures by Disney's guided tours across 6 different continents offer a vast array of
opportunities to learn.
As a client of Pixie Vacations, you'll never pay for our services. In fact, we can often save our clients
money, as well as precious time and energy by handling all of the arrangements from finding the right
resort, itinerary planning, transportation, dining and special event reservations. All you have to do is
send me a note or give me a call, tell me about your family or group and what you want to do, then
show up and have fun! No trip or request is too small, or too large. It's my pleasure to get to know you,
your needs and wishes, and then exceed them!
Please select my name on the quote form when requesting a Disney vacation quote.