Kristin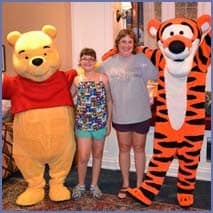 Hi! My name is Kristin Zarchan.
I have three children, Breanna (12), Tyler (7) and Hayley (4) who all love Disney.
My first trip to Disney World was when I was a freshman in high school. It was love at first sight when I entered Epcot. At the time only Epcot and the Magic Kingdom existed. The trip with a friend's family even inspired me to earn minors in Spanish and German in college.
When my oldest daughter was little we went to Disneyland once a year and once Tyler arrived we started travelling more to Walt Disney World. We still love to visit both Walt Disney World and Disneyland. I love the way Disney celebrates Halloween and have been to Mickey's Trick or Treat party once and Mickey's Not So Scary Halloween party five times. Despite my love of Halloween, Walt Disney World decorates fabulously for the Christmas Holiday. We experienced both Mickey's Very Merry Christmas Party and the Osborne Festival of Lights during my son's Wish trip.
I am a writer for the Wichita Examiner, on online newspaper, as both a Wichita Disney Travel Examiner and as a Special Needs Kids Examiner. I share my knowledge of Disney through words and photos.
I would love to share my Disney travel insights with you. I have personal experience with Disney's magical way of assisting special needs children both throughout the theme parks and in their restaurants. Just select my name on the quote form and I will help plan your Disney dream vacation with a FREE quote.
Testimonials:
We had been to Disney before and not used a travel agent and decided
to use one this trip and I really wished we had used one in the past.
Kristin was super helpful from the beginning she let me know the best
and least crowded days to go and helped me narrow down which hotel
would be best for us. She also emailed over park hours, magic hours
and parade information. She really thought of all the things I didn't
think about. She was also very helpful in getting some dining
reservations. I also appreciated the emails she sent to make sure
everything was good before and after our trip. We will definitely use
her again. - Shannon