Mindy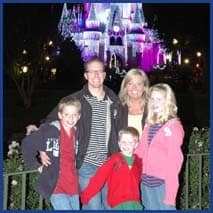 About Mindy
Mindy is a wife, mother of 3, Disney Vacation Planner, and avid blogger. She and her family reside in Charlotte, North Carolina. Her love for all things Disney began at a very young age on family vacations to the parks. Having 3 mousekeeters of her own, Mindy understands the crazy amount of details involved in planning a Disney vacation. To make life easier for you, Mindy spends her time keeping up with park news, working on itinerary strategies, and makes it her mission to stay on top of Disney's promotions that will earn you the most magic for you vacation dollar. It is her passion to help families plan a stress free, memory filled, magical vacation! When not vacationing at Disney, Mindy and her family can be found on the shores of Sunset Beach, NC.
Please select my name on the quote form when requesting a Disney vacation quote.
Client Testimonials:
D. Cochran - Hey Mindy! I just wanted to let you know how much I appreciate all of help in planning our Disney vacation. It was perfect!!! Everything – the resort, the food – the dining plan, the parks – fast passes, the helpful tips, etc. I could not have ask for anything more and could not imagine anything any better. We had an AMAZING time!! It was perfect for our whole family. We were not ready to leave at the end of the trip and we are ready to go back in 3 to 5 years!!! Yes, I will be calling you!!   Once again, I can't say THANKS enough!!!