Lisa R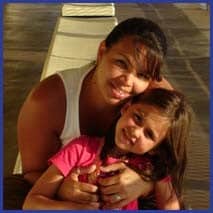 Hello, I'm Lisa R. and like every other Pixie agent-I'm Disney obsessed. I have been going to Disney parks since I was 5 years old and now have my own Disney adoring
family. We have systematically been on a mission to experience all that Disney has to offer, and each new experience has given us many priceless Disney vacation memories.
Friends & family have stopped asking where we are going on vacation, and now simply ask when our next Disney vacation will be. Somewhere along the way, I became the
Disney Guru to my friends and family who were interested in Disney trips, so it just seemed natural to become a Disney vacation specialist and work for Pixie Vacations. I am a graduate of the Disney College of Knowledge and while I specialize in Disney travel, I also book many other vacation destinations as well.
I am also a complete foodie and along with my Disney passion, I have a passion for cooking and dining. So I ramble on…er…I mean blog about Disney & dining at
disneyalacarte.blogspot.com
as well as on FaceBook & Twitter. Come check it out and join the discussion
Some of the services I offer are:
*Discount monitoring: I will monitor your vacation for any promos/discounts that might
become available and will immediately apply them to your package-saving you money.
*Dining/Meal Planning: We have dined at many of the restaurants throughout WDW
property and I can answer questions, make suggestions and very importantly book all
your advance dining reservations. Many popular restaurants will book up far in advance,
so it is important to make your reservations as soon as possible. I also pride myself on
getting hard to secure reservations.
*Personalized Itinerary: I will create an itinerary designed especially for your trip with
reservation numbers, tips, and info to help you make the most of you vacation time.
And all the services I provide are always 100% free of charge.
I understand that you work hard for your vacation dollars and your vacation time is
precious, so it is important to me to take the time to listen to what YOU feel is your
perfect vacation. I will tailor your needs to create the magical experience you have been dreaming about for your family. Feel confident that my services are with you from the time that you book, until you return home. Regardless of budget, I want everyone to love Disney as much as I do and come home with a lifetime of wonderful Disney memories. I really do have the best job in the world-I get to help people make cherished family memories. I look forward to helping you make your next vacation truly magical.
Please select Lisa R on the quote for when requesting your Disney vacation quote.