Lesley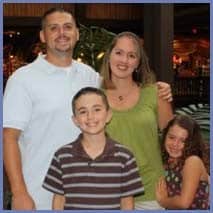 Hi, my name is Lesley.
I am happily married to my husband Tim and mother to my daughter Lauren (9) and my son Luke (12). I have been a Disney lover for as long as I can remember, traveling there often as a child with my family. My love of Disney rubbed off quickly on Tim when we honeymooned in Disney.
We have taken Luke and Lauren on yearly trips since they were babies and now we enjoy vacations as a family to Disney multiple times per year and even enjoy adult only vacations centered around food and wine festival.
We have stayed in every level of hotel Disney has to offer and are Disney Vacation Club members as well. We have taken 3 Disney Cruiseline vacations together on the Disney Dream and Fantasy ships and are officially hooked on all the Disney Cruiseline has to offer.
I pride myself in listening carefully to my clients and I will custom design a memorable Disney vacation for you that will meet your needs and fit within your budget.  My love and knowledge of Disney will come shining through as we work together
I offer:
* Full itinerary planning for you to help you avoid crowds and wait times.
* Making all dining and entertainment reservations.
* Complete concierge service to you from the first point of contact until your travel is completed.
* Reservation monitoring to ensure that you save money. If Disney releases a discount that can be applied to your reservation I will ensure that happens and the money will be refunded to you.
* Gift card booking incentives on ALL trips over $1,000 and a free personalized Disney tote bag to thank you for booking through me and Pixie : )
I specialize in Disney World, Disneyland, Disney Cruise line and Adventures by Disney.
I look forward to working closely with you to make all of your Dreams Come True!
Please select my name on the quote form when requesting a Disney vacation quote.
Client Testimonials:
Fiehrer Family - We contacted Lesley to help us create an itinerary for our family's first trip to Disney.
Best decision we made! From the start, she supplied wonderful advice and information.
Her experience and knowledge about Disney and all of the parks was essential in the
planning of our trip. I highly recommend Pixie Vacations to others and will certainly
contact her for future vacations!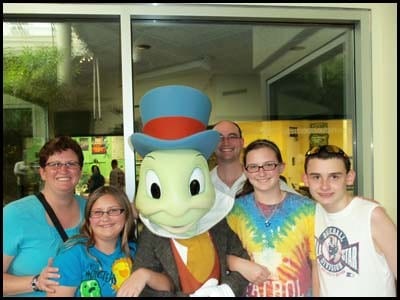 Kociba Family – Lesley did a great job learning about our family and what we were interested in doing
on vacation. She tailored the itinerary she gave us to fit our family's desires. This
was our first experience going to Disney World with our family. We followed Lesley's
suggestions and had wonderful meals and never waited more than 15 minutes in line for
any ride or show at Disney. We saw everything in each of parks and had a great time.
My children's response to how their vacation was – "fantabulous!"
We have already looked into booking our next vacation with Lesley and will definitely
recommend her to friends and family!
Lofton Family - Hands down, Lesley is the best travel agent ever!!  Without her expertise our vacation wouldn't have been as pleasurable.  She planned everything for us, including all of our dinners.   Planning a trip to Disney can be very overwhelming but she took all of that on her shoulders allowing us to just focus on having fun.  Her knowledge about Disney was outstanding and all her tips helped us out tremendously.  She definitely went beyond the call of duty, even offered unlimited help while we were there (via phone and text).  With travel agents I have worked with in the past, once the trip is booked their services stop and I have never had a travel agent as excited about the vacation as I was until Lesley.  I can't say enough wonderful things about Lesley, just when I thought customer service was dead in America, she changed my mind.  I give out her information to everyone I talk to, including complete random strangers.  My family owes her a HUGE Thank you for making our vacation truly magical.