Welcome to our Pixie Vacations Giveaway
We are giving away a custom monogrammed beach tote. This is a great tote for the beach, to take to Disney, or to use at your grocery store. This is custom made just for you with your family name added to the bag.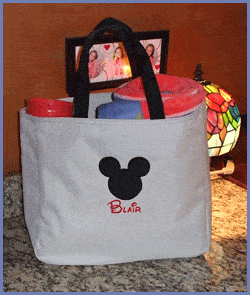 You can enter the drawing several ways.
1. Join our mailing list for updates on the latest Disney Vacation Specials.
Just enter your name and email address in the fields at the Bottom Right of this page.  Scroll down, way down.

2. Become a Fan (LIKE us) on our Disney Vacation Discounts Facebook page at:
Click to get to our Facebook Fan Page
Good luck