Gina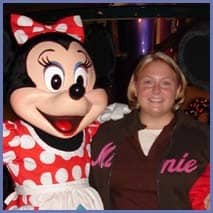 Hello everyone!  My name is Gina.  I am from Pendleton, Indiana which is a small town outside of Indianapolis and have lived here all of my life.  Of course, I am a HUGE Disney fan!  I love everything Disney right down to my home décor.  Some say I am still a child, I say I am a child at heart! Disney allows anyone, not just me, to be a child and escape to fantasy even if just for a day.  Disney represents hopes and dreams to everyone who opens their heart to it. I do believe Walt Disney himself would be proud of what his dream has become.
Even before I was born my mother was taking to me to Disney so it has always been a part of my life.  We used to go every summer to the beach and then to Disney World.  I was there in 1981 when EPCOT was new, and the same for MGM Studios (now Hollywood Studios) and Animal Kingdom. My mother, father, sister and I have a tradition of going to Walt Disney World between Thanksgiving and Christmas to celebrate the wonderful Holiday! Walt Disney World is my home away from home and I have so many amazing memories, I can't wait to make more! However, I have traveled many other amazing places besides Disney such as Europe, Mexico, all over the US and many cruises; but of course Disney is my favorite!
So many people ask me why I keep going back to Disney and I all can say is, "It's truly magical, there is no place like it, and it feels like home." I know my way around all things Disney better than I do my own home town. I have experienced every way one can experience Disney, from on a budget to money is no object. And no matter where life takes me, I will continue to enjoy the Disney parks and Disney Cruise Line for as long as this life lets me!
I am proud to be a part of Pixie Vacations and excited to start on this new Disney adventure! I am a graduate of Disney's College of Knowledge and I can't wait to help you with your Disney vacation!  I hope to create new memories for you and your family!  I will be your personal concierge and help you every step of the way!  Here are some things I would love to help you with:
*Create a personalized itinerary to fit your wants and needs.
*Book your dining reservations.  (And any entertainment reservations)
*Keep you informed of any discounts that may apply to your vacation.
*Be there for you to answer any questions you may have.
*I will make this process easy and stress-free for you.  Let me do all the work!
*I am a Disney expert but can help you with any other travel destinations!
Let me create a magical vacation sure to last a lifetime!
You can select my name on the Quote form or you can contact me at:
gina@pixievacations.com or (765)606-8060
"I would rather entertain and hope that people learned something than educate people and hope they were entertained."
-Walt Disney