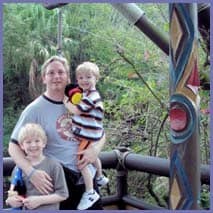 Hi! I'm George.
I am an author, Disney historian and theme parkeologist.
What does this mean for you?
I love Disney. I love talking about Disney and I love helping people plan their best vacations ever!
I have been enamored with the parks since my first visit in 1994. Since then, I have taken solo trips, family trips and adults-only trips. Any trip to a Disney theme park is better than being at home, right?
I am married (my wife has been going since the 1970s) with a teenage son and an 8 year-old son. Both boys have been many times (even trips before they were three). I have traveled with children with different disabilities, so I am well-versed in special needs at Walt Disney World. I have also been on grand gatherings with extended families and friends.
One of my passions is searching out the hidden details of the parks and how they relate to the Disney Company. I have been writing posts, book reviews and historical essays about Disney at my site, Imaginerding.com, since 2007. I was also a contributing essayist to Four Decades of Magic, a book celebrating the first 40 years of Walt Disney World.
Beside helping you plan the nerdiest trip possible, I also offer services that include: itinerary planning; dining reservations; touring advice;and discount monitoring. I want you to have the best trip possible.
Please select my name on the quote form when requesting a Disney vacation quote.