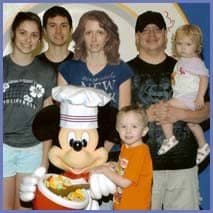 Hi I'm Angie!
My fascination with Disney started after planning my family's first Disney
vacation a couple years ago.  I was in awe of how magical a place it was and the memories we were creating as a family.  As I began to research and plan future Disney vacations for my own family, I became more interested in wanting to help other families create those same memories.  I would love to help you plan your own vacation to the most magical place on earth.  As a mother of four kids with ages ranging from 2-16, I know how important it is to make sure everyone is happy and having lots of fun.  Disney offers something for everyone! Our services are free and include booking vacations for Disneyland, Disney World, Disney Cruise Line and Adventures by Disney.
We can offer your family concierge service you can't get by booking directly through the Disney site.
These services include:
~Booking advanced dining reservations including Character meals
~Itinerary planning
~Monitoring your current reservations and applying the latest discounts and deals if it applies.
Whether you're headed toward the second star to the right or traveling to
any other Disney destination, you can have faith and trust in us to make
your vacation pixie perfect!  Contact us for a free quote today!
Please select my name on the quote form when requesting a Disney vacation quote.
Magically Yours,
Angie DeRosier