Book A Disney Cruise Line Special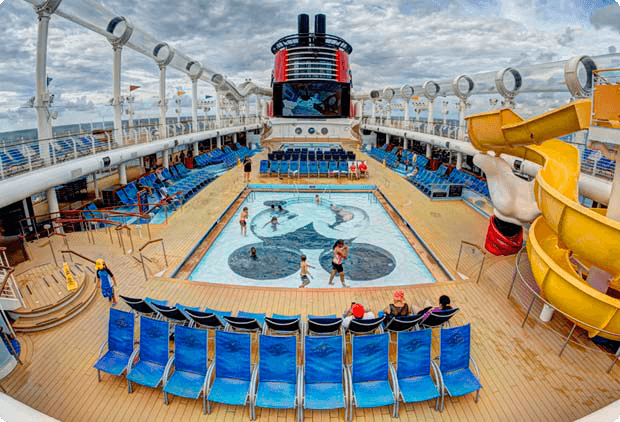 Book a Disney Cruise this year and save with these Disney Cruise Line offers
Current Disney Cruise Line Vacation Specials
3 Night Bahamian Cruises (Port Canaveral, FL departure)
From $540* per person
Based on double occupancy
For most sail dates
September 12 – 26, 2013
Category 6B Deluxe Oceanview Stateroom with Verandah,
Disney Dream®
3 Night Bahamian Cruises (Port Canaveral, FL departure)
From $525* per person
Based on double occupancy
Available most sail dates January 9 – 30, 2014
Category 6B Deluxe Oceanview Stateroom with Verandah,
Disney Dream®
4 Night Bahamian Cruises (Port Canaveral, FL departure)
From $720* per person
Based on double occupancy
Available most sail dates September 8 – September 22, 2013
Category 6B Deluxe Oceanview Stateroom with Verandah,
Disney Dream®
4 Night Bahamian Cruises (Port Canaveral, FL departure)
From $700* per person
Based on double occupancy
For January 26 & February 2, 2014 sailings aboard
Disney Dream®
7 Night Eastern Caribbean Cruises (Port Canaveral, FL departure)
From $2,044 * per person
Based on double occupancy
For August 24 , 2013 sailing aboard Disney Fantasy®
Category 5 C Deluxe Oceanview Stateroom with Verandah
7 Night Western Caribbean Cruises (Port Canaveral, FL departure)
From $1,085 * per person
Based on double occupancy
For September 28 , 2013 sailing aboard Disney Fantasy®
Category 11C Standard Inside Stateroom
7 Night Western Caribbean Cruises (Port Canaveral, FL departure)
From $1,365 * per person
Based on double occupancy
For September 14, 2013 sailing aboard Disney Fantasy®
Category 5C Deluxe Oceanview Stateroom with Verandah
7 Night Mediterranean Cruises (Barcelona, Spain departure)
From $1,512 * per person
Based on double occupancy
For August 24, 2013 sailing aboard Disney Magic®
Category 10C Deluxe Inside Stateroom
7 Night Alaskan Cruises (Vancouver, Canada departure)
From $1,225* per person
Based on double occupancy
For September 2, 2013 sailing aboard Disney Wonder®
Category 11B Standard Inside Stateroom
Ask about other Disney Cruises on the Disney Wonder, Disney Magic and Disney Fantasy Cruise Ships.  Let us plan the perfect Disney Family Cruise for you.
About PixieVacations.com:
We are Authorized Disney Vacation Planners, and plan exclusively Disney Vacations. In addition to being travel agents our team is made up of past Walt Disney World and Disneyland Cast Members. We have worked, lived, and played, all around Disney World and Disneyland. We are happy to use our Disney knowledge to plan the perfect Disney Vacation for you.
We never change a fee for our concierge level of service. Please call us or use the free quote form below and let us plan your next Disney Vacation for you.
Contact us for the best price Disney Cruise.
Contact PixieVacations to get a free Disney Cruise Line vacation quote:

Take a Tour of the Disney Fantasy Cruise Ship.  This quick video highlights Disney's newest ship and some of the must see attractions, shows, dining, entertainment for adults and kids.
 *Rates in U.S. dollars. Offer is subject to availability. Other restrictions may apply. Excludes Government Taxes and Fees approximately $60 for 3 and 4 – Night Bahamian Cruises from Port Canaveral; $80 for 7-Night Caribbean Cruises from Port Canaveral:$79for 5-Night Caribbean Cruises from Miami; $45 for 4-Night Mediterranean Cruises; $55 for 7-Night Mediterranean Cruises; $100 for 7-Night Alaskan Cruises;$196 for 14-Night Panama Canal Cruise from Los Angeles (all amounts subject to change). Gratuities and excursions are not included